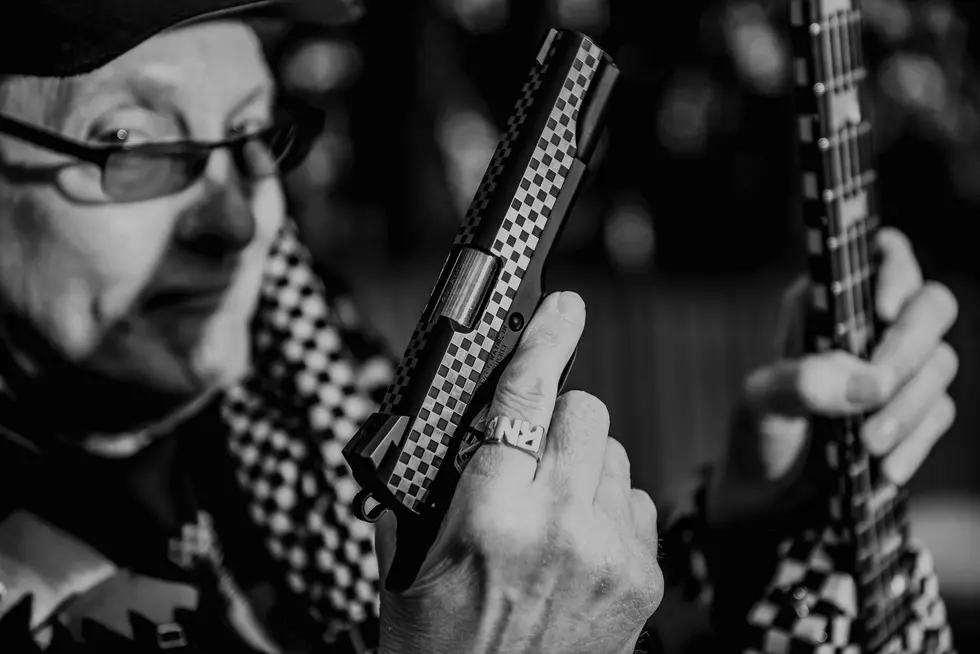 LOOK: Cabot Guns' Custom-made Pistol for Cheap Trick's Rick Nielsen
Tammy Vega/Cabot Guns
Rick Nielsen, a true American rock and roll icon, just received his fabulous custom-made 1911 pistol from another 100% American icon, Cabot Guns.
Let me begin by saying that my knowledge of guns is pretty limited, but that doesn't mean I'm not aware of just how incredibly beautiful a Cabot Guns custom-made 1911 pistol truly is.
What makes a 1911 pistol so special?
The gun dates back to 1911, when it was first used by the United States Armed Services. It was standard-issue until 1985. It is a single-action, semi-automatic, magazine-fed, recoil-operated pistol. When I asked one of my closest friends what he thought of the 1911 from Cabot, his first words were,
"It's a f***ing classic!"
Those words were immediately followed by, "I hope to own a custom-made Cabot one day."
Cabot guns are a 100% American product
"American born solid blocks of billet steel which forms the backbone of all Cabot Guns, to the workers plying their precision trade in the heartland of America, right down to the optional Mammoth-Ivory grips harvested from the ancient ice fields of Alaska's great frontier. Every piece of every component can be traced to American roots." (Cabot Guns Founder & CEO, Rob Bianchin)
Another American original, Cheap Trick guitarist (and gun enthusiast) Rick Nielsen, commissioned a custom 1911 pistol from Cabot, and what he got was one of the coolest guns I've ever seen. This pistol incorporates two things always associated with the Hall of Fame guitarist, that checkerboard pattern and guitar picks.
The Cheap Trick Rick Pistol
LOOK: Cabot Guns' Custom-made Pistol for Cheap Trick's Rick Nielsen
To read more on the story of how the Cheap Trick Rick Pistol came to be, click HERE.
Steve Shannon is host of The Steve Shannon Show on 97ZOK. On the air weekday mornings from 6 to 10 a.m. and a special 'Rewind' show, featuring favorite moments from previous shows, on Saturday mornings from 5 to 7 a.m.. Follow him on Twitter, Instagram, and like his page on Facebook.
More From WROK 1440 AM / 96.1 FM