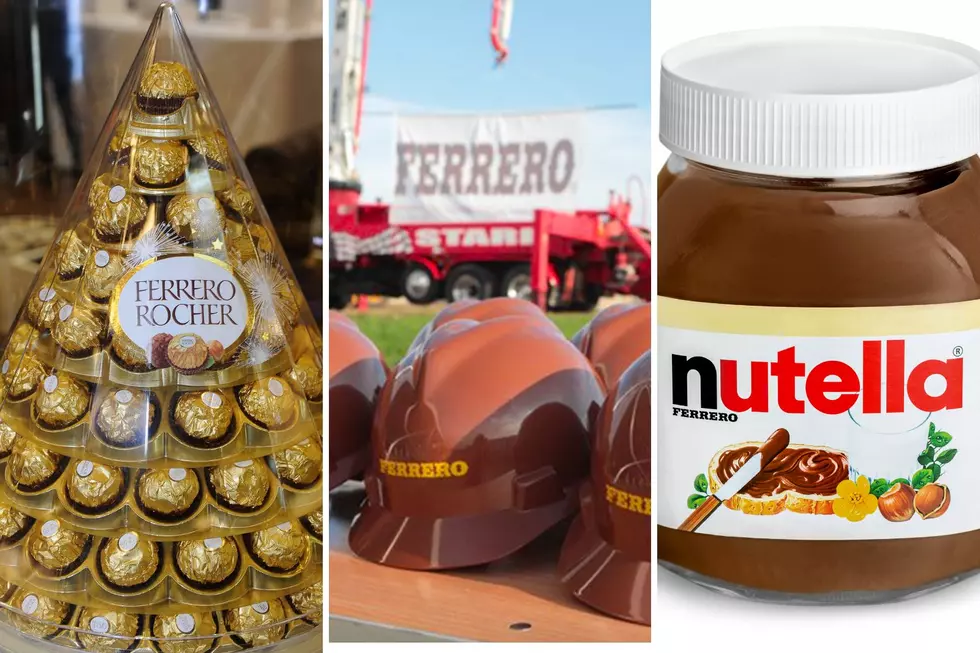 5 Things You Should Know About Illinois' Very Popular Ferrero Chocolate
Getty Images/Ferrero Careers Facebook/Canva
Ferrero is making big noise in Illinois and they just got louder. Besides the taste, how much do you know about the world's second-largest chocolate producer?
Ferrero North America made a pretty major announcement this week that will have a pretty sizeable impact on their business and more specifically, the people of Bloomington, Illinois.
There's no way I'm the only resident of Illinois that just found out this chocolate company has a plant in Bloomington. Maybe I should have named this story, 6 Things You Should Know...
I asked my wife, "what's the first thing that comes to mind when I say Ferrero chocolate? She said,
Nothing melts in your mouth like a Ferrero.

 
My wife still talks about the gift box of chocolates she got as a gift from my mother. For anyone who walked near that box, they knew it was one more thing you absolutely should not touch.
Since I possibly was the first to share that Bloomington location fact with you, these are
5 (More) Things You Should Know About Illinois' Very Popular Ferrero Chocolate
Ferrero Fun Fact #1
The man who founded the company in Italy in 1946, Pietro Ferrero, also laid the groundwork for Nutella and added hazelnut to save money on chocolate.
Ferrero Fun Fact #2
In order to make enough Nutella to feed us all, Ferrero uses one-quarter of the world's yearly supply of hazelnuts. Ferrero has been making the current version of Nutella since 1964.
Ferrero Fun Fact #3
You'll likely be happier after you eat Ferrero Rocher. The chocolates contain lecithin which is used as a remedy for high cholesterol, depression, and anxiety.
Ferrero Fun Fact #4
In March of 2018, Ferrero complete its purchase of Nestlé's American confectionery business for $2.8 billion. The deal included such brands as Baby Ruth, Crunch Bar, and Butterfinger
Ferrero Fun Fact #5
In 2019, Ferrero purchased several businesses owned by Kellogg's. One of those companies is Little Brownie Bakers, one of the makers of the cookies for the Girl Scouts of the USA.
Fact sources: ConfectionaryProduction.com | Wikipedia | Times of India
Ferrero North America Plans up to $214 Million Expansion of Bloomington, IL Plant
Plans being reported say Ferrero will add 169,000 square feet to the Bloomington facility and add 200 new jobs.
The expansion is part of the company's switch to producing the Kinder products in North America for the very first time.
The Chicago Tribune reports that Ferrero will produce its Kinder Bueno bars and minis, described as wafers coated in chocolate and filled with a creamy hazelnut filling, at the new facility.
I guess it is time to add Ferrero Rocher to the list of foods you must try when visiting Illinois.
You Cannot Visit Illinois Without Trying These 5 Iconic Foods
Welcome to Illinois. While you're here, we're going to make sure you eat well. Not just delicious food, but the most important foods our state offers.
More From WROK 1440 AM / 96.1 FM