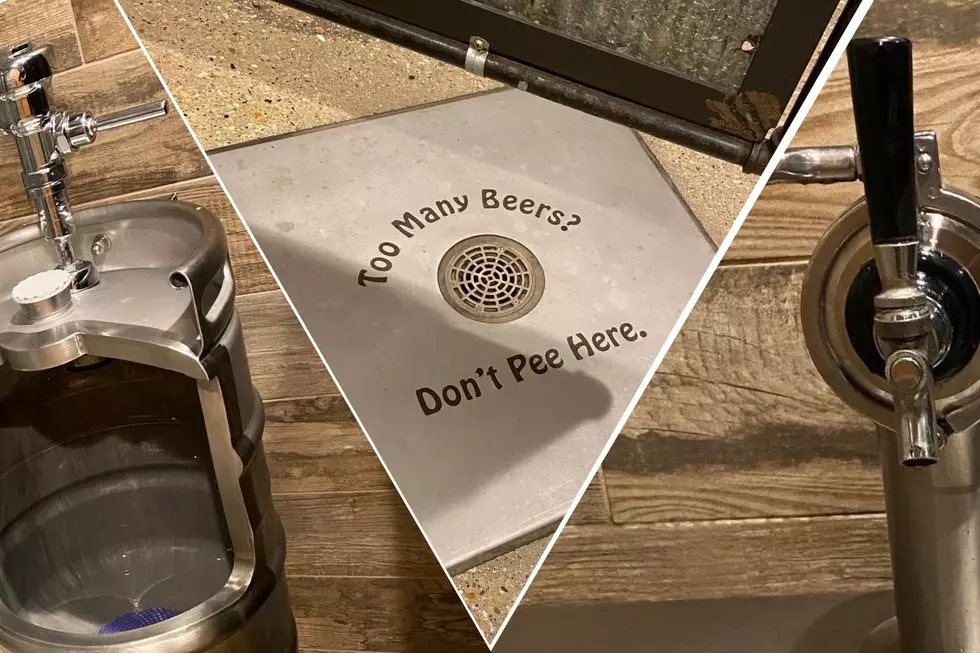 Outstanding Illinois Brewery Might Have the Most Clever Bathroom Setup in America
Lenny Pic
It's not every day you go to a brewery and walk away talking about the bathrooms.
First, don't get me wrong, the beers and the food at this place were standouts too, but I just don't think I've ever seen a bathroom repurpose the stuff they have to make it so cool and unique.
I mean, you can make your own decision on it and who knows, maybe I need to get out more but I've never seen a urinal replaced with a keg but it exists at this place.
I also have never witnessed a sink where the faucet handle has been replaced with a keg handle but they also exist at this place.
Lastly, I can tell you for sure I've never seen a floor drain adorned with as clever a saying as this:
Oh by the way, if you want to check this place out because of the beer, the food, and obviously, the bathroom, you're in for a top-notch trip to Lena.
Yep, it's called the Lena Brewing Company, 9416 West Wagner Road, and no matter where you call home, it's worth the drive.
It was the perfect Saturday for my wife and me to sample a few beers get a little lunch and enjoy the outdoors.
I'd be remiss to mention the staff at Lena Brewing Company too. Very nice folks, who took care of us, with zero issues.
Ann M. on Yelp said Lena Brewing Company's "Atmosphere is outstanding, food was delicious and staff was super friendly!" and Colton B. mentioned The beer is dense and if you like that you'll love this place."
Plus the bathrooms, have you seen the bathrooms? I had such a good time I grabbed some merch. When I do that, you know you've got yourself a fan.
LOOK: Best Beers From Every State
To find the best beer in each state and Washington D.C., Stacker
analyzed January 2020 data from BeerAdvocate
, a website that gathers user scores for beer in real-time. BeerAdvocate makes its determinations by compiling consumer ratings for all 50 states and Washington D.C. and applying a weighted rank to each. The weighted rank pulls the beer toward the list's average based on the number of ratings it has and aims to allow lesser-known beers to increase in rank. Only beers with at least 10 rankings to be considered; we took it a step further to only include beers with at least 100 user rankings in our gallery. Keep reading to find out what the best beer is in each of the 50 states and Washington D.C.
7 Wisconsin Breweries Every Beer Lover Should Check Out
More From WROK 1440 AM / 96.1 FM