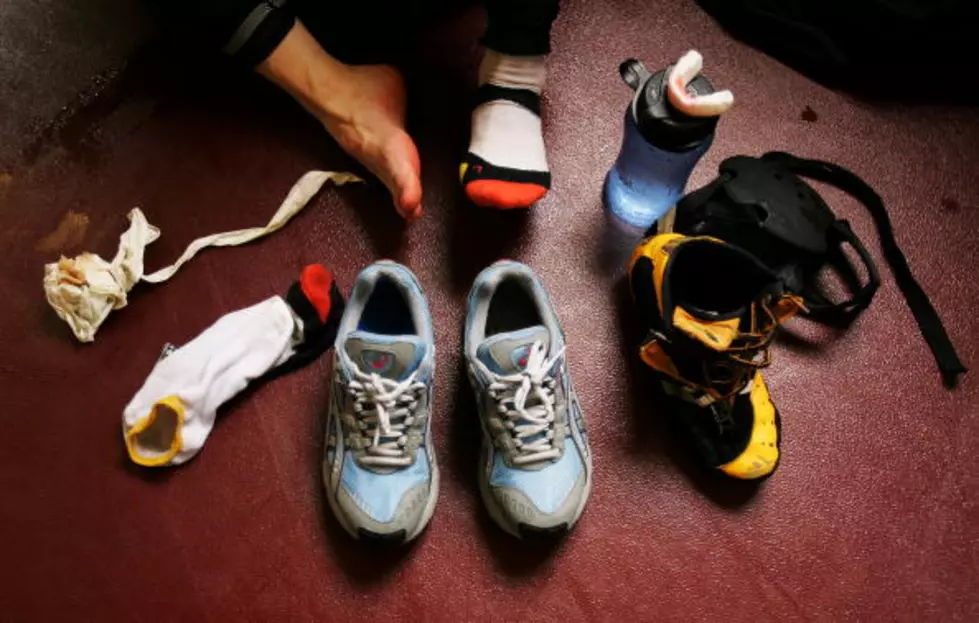 NUIC Regional Wrestling Preview
Getty Images
You can't win the wrestling State championship at the Polo Regional. But you can lose it.
The champion of Individual Regional with team points moves on in the state duals. For the other, the team season ends. Dakota won four straight state titles 2013 through 2016 and Lena-Winslow/Stockton the last three regionals including two state championships. Now Dakota will be going for their sixth wrestling state title in school history.
The NUIC powers went back and forth trading leads Saturday until Dakota made its push to lead and go on to win by 45 points over Lena-Winslow/Stockton.
The Indians and Panther/Hawks met head to head in five of the championship matches winning four.
Dakota's Maddux Blakely had a 10-1 major decision over Dillon Raab at 113.
Lucas Sutherland edged Winston McPeek 3-1 at 138. Aidin Nardin snuck by Andrew Haas 4-2 at 160. At 170 Andrew Wenzel had a 13-5 major decision over Case Harmston.
Lena-Winslow/Stockton's Garret Luke won 106 with a first period pin over Ethan Rood of Dakota.
Dakota had a total of six champions also including Phoenix Blakely at 120 and Evan Riggle at 182. They advanced ten to Sectionals including runner up's Rood and Tyler Simmer at 132. Finishing third was Kade Wales at 145 and Martin Snyder at 195. Three others just missed advancing losing the third-place matches in Quinton Heilemeier at 152, Cody Meade at 220 and Dalton Riggle at 285.
Lena-Winslow/Stockton three year regional run ends but they know they would have easily won any other regional. And the Individual State chances look good. The Panther/Hawks qualified nine for Sectional with four champions in Luke, Jaden Rice at 126, Simon Rillie at 145 and Jason Hermann at 152. Four seconds in Raab, McPeek, Haas and Harmston. Marey Roby was third at a loaded 132 with a 16-1 win. Roby had lost a tough 2-1 semifinal match to Simmer. Gennings Dunker state ranked at 285 was unable to wrestle. Connor Edge took his spot and made the semifinal before losing twice and not placing.
West Carroll qualified five with Ethen Doty the 132 champ. Second Camden Simpson 182, Kelsey McCombie 152, Elijah Dertz 220 and Trapper Hartman third at 126. Stillman Valley also advanced five with runner up Logan Lagerhausen 145, Aiden Livingston at 120. In third Donovan Crumpacker 113, Mason Engelkens 152 and Logan Jennings 182.
For Byron champions Peyton Lind at 220 and Tyler Elsbury 285 and Carson Wilsie third at 170. Matt Nevdal of Durand was third at 138 and
Mason McKenna of Polo third at 160.
3A Huntley. The host won the team title. Belvidere Coop was a strong second.
Belvidere. 1st. Presley Beasley. 120. Ethan Diveloy 152.
2nd. Antonio Alvarado 126. Trever Dawson. 220.
3rd. Josue Pizano 285.
Alejandro Banuelos. 106. Isaac Palmer. 132. Camden Landman. 138.
Hononegah. 1st. Tony Figueora. 182.
3rd. Trevor Dieme. 126. Payden Gantz. 170. Xavier Schnake 195. Connor Thoer
220.
East. 2nd. Joey Pineda. 285. Zander Guttridge 182. Kevin Pierce. 113.
3rd. Eh Ta Sur 113, Jack Seacrist 145.
Harlem. 1st. Jevin Doke. 113. Cadence Hecox. 195. 24-0 on season.
2nd. Kyetin Lindquist. 145.  Chad Richards. 170.
3rd.  Marshal Cunz. 152. Cameron Pryor. 160.
Rock Island 2A. Freeport finished third Saturday with host Rock Island the champion. The Pretzels advanced seven wrestlers to Sectionals.
They had four champions in Tyler Calam at 106, Markel Baker 113, Keondre Jackson 170 and Matthew Chavers 182. Tarrone Jackson was second at 138 with Jaylon Hail third at 132 and Isaiah Battest at 285 whose third-place win pushed Freeport from fourth to third place.
"We are extremely excited going into
the past two weekends." said Freeport coach Anthony Dedmond. "We knew what we had in our team but also knew we needed to step up and perform. The crowd at Freeport was something I've never felt before. The energy has been an all-time high and we have fed off it now for both the Conference meet and we qualified seven from regionals."
1A Harvard. The host won the title. Advancing from the Stateline. Winnebago. 1st. Bryce Faworski. 160. 2nd. Hayden Faworski. 138. 2nd. Carlos Sanchez. 126. Mannix Jaworski. 3rd. 170.
North Boone. 3rd. Anthony Mercandante. 195. Ty Johnson. 285.
Rockford Lutheran. 1st. Steven Lee. 285. 2nd. Tag Habedank.
Stateline Sports Hub. NUIC basketball rankings.
Boys
The top two teams stay hot with winning streaks.
1. Eastland. 20-5.
2. Dakota. 20-4.
3. East Dubuque. 22-3. Loss to Yorkville Christian.
4. Pecatonica. 20-7.
5. Lena-Winslow. 19-6.
6. Scales Mound. 19-7.
7. Galena. 13-11.
8. Aquin. 14-11.
9. Warren. 12-8.
10. Orangeville. 11-9.
Girls. Regionals begin Monday.
1. Amboy. 25-1.
2. Eastland. 25-3.
3. Dakota. 21-8
4. Aquin. 22-6.
5. Galena. 20-7.
6. Stockton. 19-7.
7. Durand. 17-7.
8. Lena-Winslow. 14-11.
9. East Dubuque. 15-12.
10. Forreston 15-14.
More From WROK 1440 AM / 96.1 FM