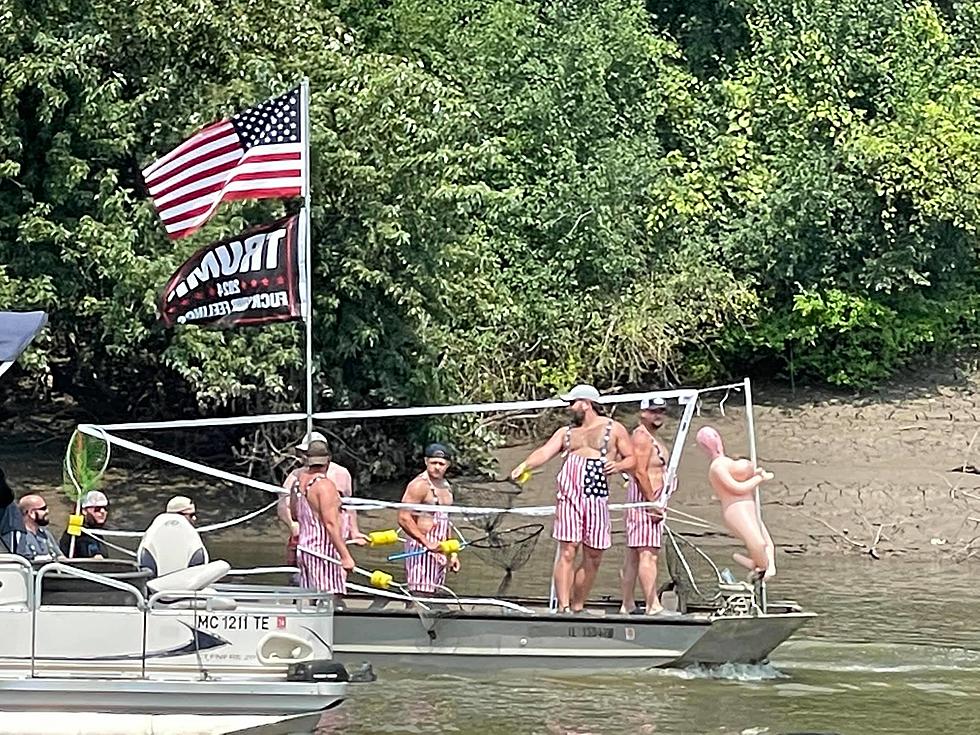 Watch: Illinois Man Injured by Flying Fish at Redneck Fishing Tournament
Jamie Nicole
OUCH! Before getting nearly knocked unconscious by the big fish assault, this guy was part of a team competing in a big tournament in Bath, Illinois.
This is not just any ordinary fishing tournament, this is the,
Redneck Fishing Tournament
After being cancelled the last two years, teams were very ready to get back in the Illinois River and catch some fish.
This tournament does not require fishing poles.
I don't know the exact origins of this nearly 14-year-old tournament but it does help battle the growing problem of Asian carp invading the Illinois River
You can search all over the internet and you'll never find any good press on these carp. They're a huge burden on our ecosystem and it appears they have a problem with violence.
Asian carp will jump out of the water at a pretty high-rate of speed when startled by a boat. That fact alone, makes it very likely that someone will get injured during The Redneck Fishing Tournament.
As mentioned earlier, no fishing poles are used in this competition. You accumulate your fish numbers by either catching them in a net, or by the fish just jumping into your boat. I read that past winners have caught around 200 fish in just two hours.
After a two-year hiatus, contestants were eager to get in the water. Turns out the Asian carp were none too pleased with their glutenous ways being disrupted, as you'll see in the video below.
Watch this guy get smacked pretty good right in the middle of his face.
Damn! That looked incredibly painful. Did you hear the boat driver ask the most unbelievable question after the guy got hit in the face?
Boat Driver: Hey Anne, you want that front position?

Anne: NO! I really don't
Good call Anne. Same thing to the person in the catcher's mask... good call!
As for the man whose nose was broken, his injuries were not serious and he was released from the hospital and returned to the tournament.
If you're curious what happens to these fish after the contest, they're buried along the river bank.
Join the Redneck Fishing Tournament Facebook group.
5 Perfect for Fall Apple Orchards in Northern Illinois to Visit
Even the biggest spring and summer lovers have a deep appreciation for a trip to an apple orchard. We're lucky to have so many this close to us.
5 'Must-Have' Chicago Hot Dog Experiences That Will Change Your Life
One look at these five Chicago hot dog spots and you will start to feel something move inside you. That's your hunger. Come eat and your life will never be the same.
More From WROK 1440 AM / 96.1 FM