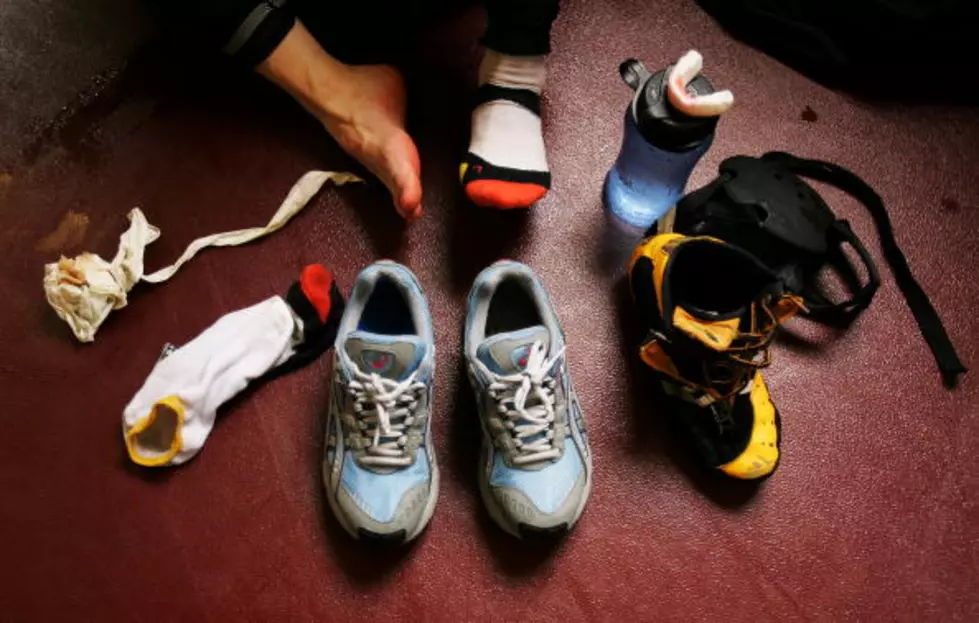 Many Stateline Wrestlers Moved On To State This Weekend
Getty Images
Stateline wrestlers competed in Sectionals this weekend. The top four from each weight class advance to State.
1A Oregon. Dakota had five earn state berths for this coming weekend. Three of those were champions in twins Maddux Blakely at 113 and Phoenix Blakely 120. Andrew Wenzel will be back to defend state title as he won at 170 with a pin in 1:29.
Aiden Nardin was runner up at 160, he fell 6-0 to Winnebago's Bryce Faworski in the final. Evan Riggle was third at 182 with four straight wins in the wrestle backs. He then eliminated Camron Simpson of West Carroll 6-2 before recording a fall in 1:14 in the third-place match over Logan Jennings of Stillman Valley. Maddux won his title 10-8 over Brock Smith of Riverdale while Phoenix had back to back championships with his brother with a 6-0 shutout of Aiden Livingston of Stillman Valley. The Indians had the three champs, but only 5 of it's 10 wrestlers qualified for state. Two lost one round from a berth in the Cons Semi with Lucas Sutherland a last-second heartbreaking 11-8 loss at 138. Martin Synder came up short at 195 7-4.
In the regionals Lena-Winslow/Stockton thee year run as champions were ended by Dakota. The Panther/Hawks bounced back with a solid Sectional effort and advanced more to state then Dakota and anybody else in the Stateline with eight. They had no champions but eight of their nine wrestlers advance to State. The Panther/Hawks had two seconds, and a trio of thirds and fourths. Freshman Garrett Luke was in the final at 106 and lost a tough 6-5 verdict to Collin Altensey of Riverdale. Sophomore Marey Roby at 132 got to the final until meeting the NUIC's Ethen Doty of West Carroll, a defending state champ. Doty won 16-0 on a tech fall in 3:53. Winston McPeek at 138 and Simon Rillie at 154 turned in solid third-place efforts. McPeek won on an injury default for third while Rillie edged Logan Lagerhausen of Stillman Valley 10-4. The Panther/Hawks who lead the Stateline with most wrestlers going to state at eight also got a third-place from Jason Hermann. He eliminated Kelden McCombie of West Carroll 3-1 and then hung for third with a 1-0 win. Case Harmston placed fourth at 170 as did Dillon Raab at 113 and Jaden Rice at 126. Raab fell 8-6 in the semifinal to Donovan Crumpacker of Stillman Valley and Rice 7-2 to Winnebago's Carlos Sanchez. At 160 LW/S Andrew  Haas came up one match short 9-3 in the cons semi.
Byron had the big boys in the finals. Tyler Elsbury got a pin to win 285 and Peyton Lind at 220 lost 5-3 in a sudden victory 2. Stillman Valley is sending a trio to state in runnerup Livingston at 120, Crumpacker third at 113 and Jennings fourth at 182.
Winnebago champ Bryce Faworski at 160 and third Sanchez at 126.
Marcus McKenna of Polo qualified for state with a fourth at 160. West Carroll had Ethen Doty as champ. Three others lost in the blood round one win from state. McCombie at 152 to Hermann of LW/S. Simpson lost 6-2 to Dakota's Riggle at 182. And Elijah Dertz at 220
2A. Rochelle. Freeport will have five wrestlers at state going for the championship that now graduated Major Dedmond won last year. Keondrie Jackson had a 5-0 win for the 170 title. Markel Baker pulled out a 5-3 win for the 113 crown. Third was Tyler Calam at 106, Matthew Chavers 182 and fourth Isaiah Battest at 285.
Dathan Wickson of Boylan took third at 152 and advanced to state.
3A. Barrington. The Belvidere Coop had a pair of solid runner up finishes in Presley Beasley at 120 and Antonio Alvarado at 126. Rockford East saw Joey Pineda take second at 285 and Eh Ta Sor fourth at 106. Tony Figueroa fourth at 182 for Hononegah.
Harlem had some hard luck Cadence Hecox at 195 and Kyetin Lindquist 145 had shoulder injuries keep them from state while Chad Richards at 170 ran into the defending state champion in the cons semi.
All four talented NUIC girls basketball teams won regionals and will play in the same Pecatonica Sectional. On Monday night Eastland plays Stockton and Tuesday Amboy plays Galena. The semifinal winners play for the title Thursday night.