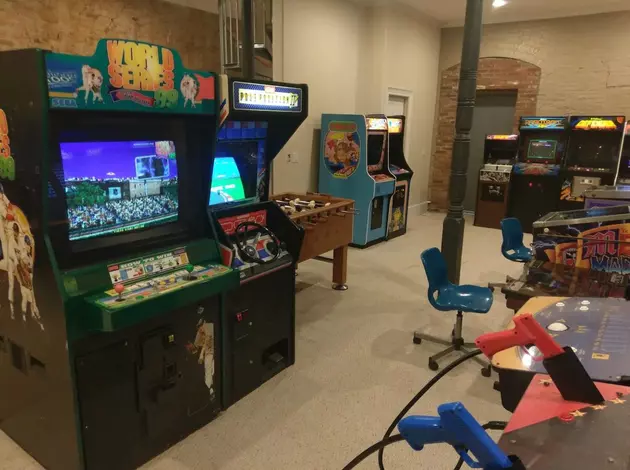 Illinois Airbnb's Hidden Basement Arcade is a Gamer's Paradise
Airbnb
You'll definitely be spending the majority of your stay in the basement.
Is there anything better than some good old-fashioned arcade fun? There's really no thrill like getting totally engulfed in a video game. I've always dreamed about having an arcade game in my house. But now after seeing this Airbnb I have a whole new goal. I want an entire row of arcade games.
Growing up I had a friend who had a couple of machines in her basement and ever since then I've dreamt about that. If you're like me, I found the perfect place for you to stay to make that dream a reality for a few nights.
This Airbnb in McLean, Illinois is known as the "Vectorman's Luxury Arcade Palace". The listing details -
Amazing, luxurious, modern, high-tech, palatial, richly furnished 4000 Sq. Ft. downtown loft home. 12 foot ceilings, 3 large bedrooms with 70" TVs and full baths, $70,000 custom gourmet kitchen, 14 foot 3D TV / Gaming projector in living room, huge rec room with dozens of free play, full-sized arcade games, foosball, and pinball. Sleeps up to 10 with 2 sofa beds. You will never find another place like this anywhere.
So, let's take a look inside.
Illinois Airbnb's Basement Arcade is a Gamer's Paradise
This is QUITE the game selection.
Look like somewhere you'd like to stay? You can book your stay here.
Pac-Man Facts: 40 Easily Digestible Bits of Arcade-Game History
From his arcade-game fame to his own TV show and appearances on all kinds of collectibles, a look back at Pac-Man.
52 Pictures Of The $1.8 Million House Scottie Pippen Has For Sale
scottie pippen house zillow sale
More From WROK 1440 AM / 96.1 FM