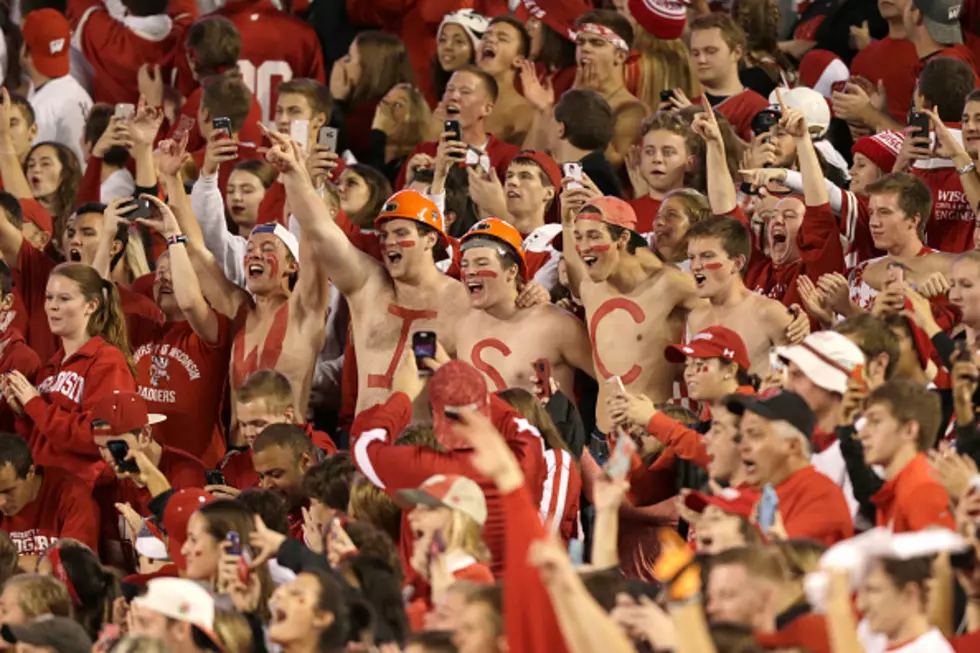 Fake News! Wisconsin Will Not Be Ending Their Annoying (But Kind Of Cool) Stadium Tradition
Getty Images
And no, the tradition we're talking about here isn't getting blackout drunk in the parking lot. But that, of course, will still be taking place. We are still talking about Wisconsin.
No, the tradition we're talking about here has been happening before the fourth quarter of University of Wisconsin football and basketball games for almost a quarter of a century.
Jumping Around.
The drunkest of Madison residents have been jamming out the the House of Pain classic to celebrate the beginning of the fourth quarter since 1998.
UWAlumni.com - "Jump Around" has been synonymous with Wisconsin for nearly a quarter century. The song was first used at the October 10, 1998, Homecoming game. When he could no longer play, injured tight end and marketing intern Ryan Sondrup '99 was tasked with creating a playlist of popular songs to use during lulls in the game. From that list, Prandall (Wisconsin assistant AD) randomly chose the 1992 House of Pain hit, and the student section went wild.
A rumor has recently been floating around the internet that Wisconsin was going to have to stop using "Jump Around" because House of Pain issued a cease-and-desist order for them to stop playing it.
This rumor appears to have been started by an April Fool's article written by the University of Wisconsin Alumni website.
To be fair, this is a very good April Fool's joke. It was harmless, fairly unique, and no one got hurt. A rarity when it comes to April Fool's jokes.
Keep jumping Wisconsin, it's just a joke.
30 famous people you might not know were college athletes
Stacker
dug deep to find 30 celebrities who were previously college athletes. There are musicians, politicians, actors, writers, and reality TV stars. For some, an athletic career was a real, promising possibility that ultimately faded away due to injury or an alternate calling. Others scrapped their way onto a team and simply played for fun and the love of the sport. Read on to find out if your favorite actor, singer, or politician once sported a university jersey.
25 Fan Reactions To Packers Coach Wanting Changes to 'The Wave' and "Go Pack, Go!"
More From WROK 1440 AM / 96.1 FM