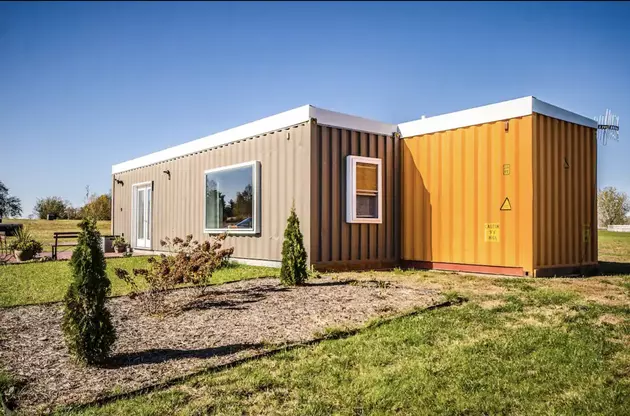 A Stay Like no Other – Wisconsin Airbnb is an Old Shipping Container
Airbnb
Ditch your hotel plans, it's time to plan a unique summer stay.
After staying in so many Airbnbs throughout the last few years, hotel rooms just seem boring to me now. I want something completely unique and unforgettable. Sure hotels are great and have a ton of amenities, but some Airbnb owners go above and beyond to create a fun stay.
The places I've stayed have had super individualized interiors, but then there's the Airbnbs that are actually located in some pretty rare ... things?
I'm sure you've never thought about spending the night in a shipping container before. But I'm here to ask you, why not? Did you know these things can be seriously transformed into really cool living spaces?
One of my favorite ways to plan a vacation is to pick an awesome Airbnb, and then check out the local town around it. You will find SO many hidden gems and make the best memories.
This shipping container Airbnb is located in Viroqua, Wisconsin. If you're like, where's that? Well, that's the point! You never know how much fun you can have in a new city. Especially when your place to stay is so neat.
The listing describes -
Converted shipping containers in to a beautiful living space. Includes heat and air conditioning. Open concept 640 square ft. Private bathroom, Full kitchen, 1 Queen size bed and sofa pulls out into twin bed, and a chair that unfolds into a single bed also a pack & play for little ones with twin roll away bed upon request as well. TV, DVD player, and WIFI. Outside patio and grill as well as a chimenea for nightly fires. Dishes, Pots and pans, Utensils, and all small appliances.
So let's take a look around the Airbnb known as "Life UnContained"
A Stay Like no Other - Wisconsin Airbnb is an Old Shipping Container
Why stay in a hotel when you can stay somewhere like this?
Listen to MJ on 97ZOK every morning 6:00 to 10 AM.  Follow her on Instagram and Facebook.  
The 100 Best Places to Live in the Midwest
Massive Smiley Face Farmhouse For Sale in Pecatonica
Looking to fully embrace the farmland life? Check out this house for sale.
More From WROK 1440 AM / 96.1 FM