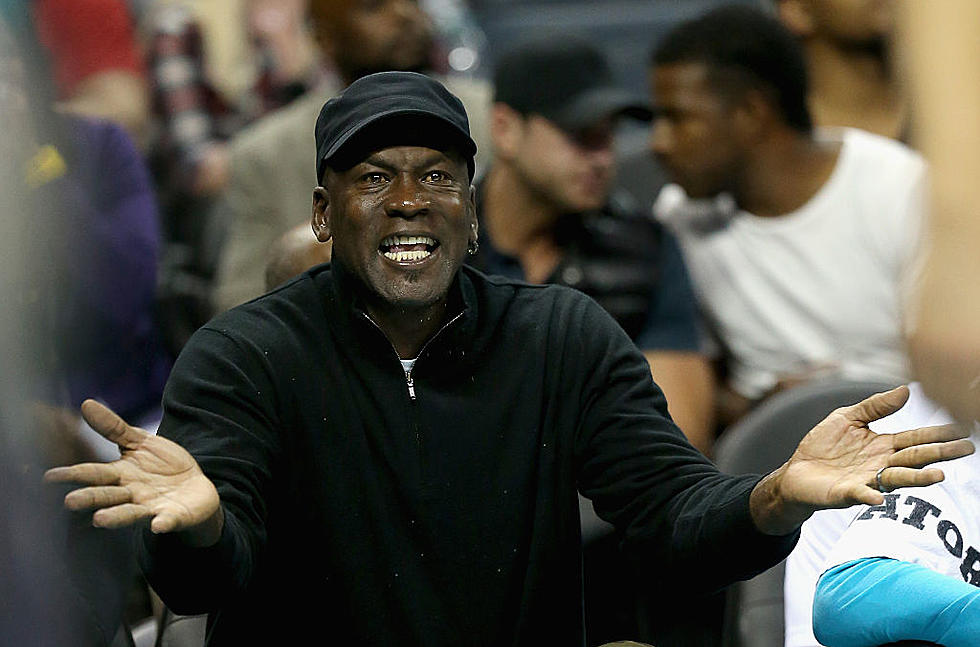 A Michael Jordan Signed Basketball For $23 Dollars? What's The Catch?
Getty Images
The website MSCHF.xyz put "authentic" Michael Jordan signed basketballs for sale on their website Monday morning for the seemingly "steal of the century" price of $23. They sold out in minutes. Considering that Michael Jordan signed basketballs usually fetch thousands of dollars, there had to be a catch.
There was, but we'll get to that in a minute.
First let's take a look at the MSCHF website.
It's a fascinating corner of the internet. At the end of the day they sell stuff, but it's what and how they sell it that's fascinating.
They don't advertise and don't have a warehouse. They have "drops" about once a week and what they sell is always one of a kind and a little outside of the box.
Take their Andy Warhol drop from October. They called it their Museum of Forgeries and in my opinion it is brilliant.
They bought an original sketch from Andy Warhol titled 'Fairies' for $20,000. Then they made 999 copies of the sketch. They brought in professional forgery artists (forgists?) for the recreation and made them all imperceptible from the original. After this, they mixed all the paintings up so even they didn't know which one was the original.
They then sold all 1,000 paintings (1 original, 999 copies) for $250 each. The idea being that you might be the owner of an original Warhol, but no one could ever tell. It's a pretty interesting comment on the world of art that the website goes into great detail.
Anyway, that's what the website is all about.
So what about these Michael Jordan signed basketballs?
Here's the website that you could buy them from:
Basketballs signed by Michael Jordan. Certificate of authenticity plus video of the signing. All for 23 bucks.
What's the catch?
Well, if you take a look at the picture of one of the basketballs and compare it to a previous signature of Jordan's, you might notice a bit of a difference.
It doesn't take a calligraphy expert to notice that those are not the same signatures.
And that's because it's not signed by the same person.
The bottom basketball was signed by the international, 6-time NBA champion, basketball star Michael Jordan. The other basketball was signed by a guy named Michael Jordan.
Are these basketballs worth more than $23? Probably not. Is the joke worth a $23 purchase? It might be. Throw this in a White Elephant exchange at work and you might have the best present at the event.
You can download the MSCHF app and get notifications on their next drop, they usually sell out in minutes. Most of them are a waste of time but every once in a while they have something amazing or just weird that you literally can't find anywhere else. It's a good website to keep an eye on.
CHECK IT OUT: 100 sports records and the stories behind them
28 Photos of a Former NBA Star's Abandoned Illinois Mansion
Look inside the sad and weird remains of a mansion, completed in 1988.
More From WROK 1440 AM / 96.1 FM