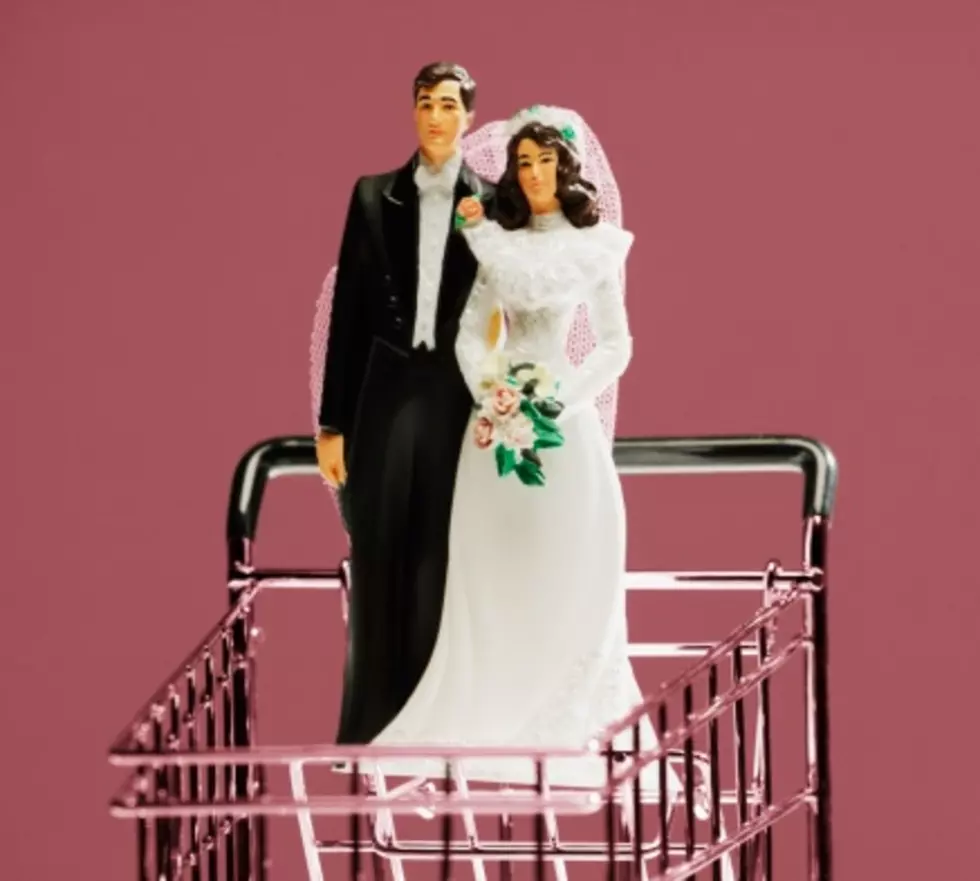 Totally Romantic Illinois Couple Gets Married At…Aldi?
Getty Images
I'm sure that when I get home today my wife Amy, having read this piece, will be wondering aloud why in the world we chose Rockford's Sinnissippi Gardens as our wedding venue when we could have tied the knot in a perfectly good supermarket.
Luckily, I remember her turning her nose up at my ideas of getting married at Dollar Tree or Shakey's Pizza, so it's too late to complain now.
Last August, ALDI Announced A Contest That Would Result In The Winners Getting Married In The Batavia, Illinois ALDI Store, Near Their Corporate Headquarters
If you're anything like me, and I know I am, your first thought was probably that the winning couple would have to wrap and carry out all of their own presents themselves after they shove a quarter into their wedding cart.
According to the the Aldi wedding sign-up page when it debuted at SweepPromo.com, this was not your standard, run-of-the-mill, "let's get married at the grocery store because we need cereal, anyway" type of thing:
On one very special Wednesday, we'll be transforming the ALDI Insights Center, our model store near our Headquarters in Batavia, Ill., into the ultimate ALDI-themed wedding venue.

The winning couple will receive travel accommodations, hair and makeup for the wedding day, a professional photographer to capture once-in-a-lifetime photos walking down the ALDI aisle and a reception for you and up to 50 guests!
Not only that, but Aldi had the reception covered, too. They set up the winning couple with Aldi food and beverages, a branded tiered wedding cake, custom wedding favors, and what I think would be a fantastic wedding gift for anyone marrying anywhere: a year's worth of free groceries at Aldi.
Jessica Bojanowski and Michael Hurd Got Their ALDI-Themed Wedding Last Week In Batavia...Right Next To The Produce Section
According to a report at Patch.com, these two newlyweds, as part of the ALDI contest, shared what makes their story special:
Jessica Bojanowski and Michael Hurd, of Southgate, Michigan, were the "perfect" couple to win the contest because they embody "Aldi love," a company spokesperson said.

For the couple, they knew it was meant to be when they realized the date of the proposed Aldi wedding, Nov. 9, was coincidentally the anniversary of their first date.
25 Illinois Steak Joints You Need To Try Sooner Than Later
If you are anywhere between the Illinois/Wisconsin border and into the deep suburbs of Chicago, this list is for you.
8 Small Town Illinois Christmas Events You Should Attend This Year
More From WROK 1440 AM / 96.1 FM