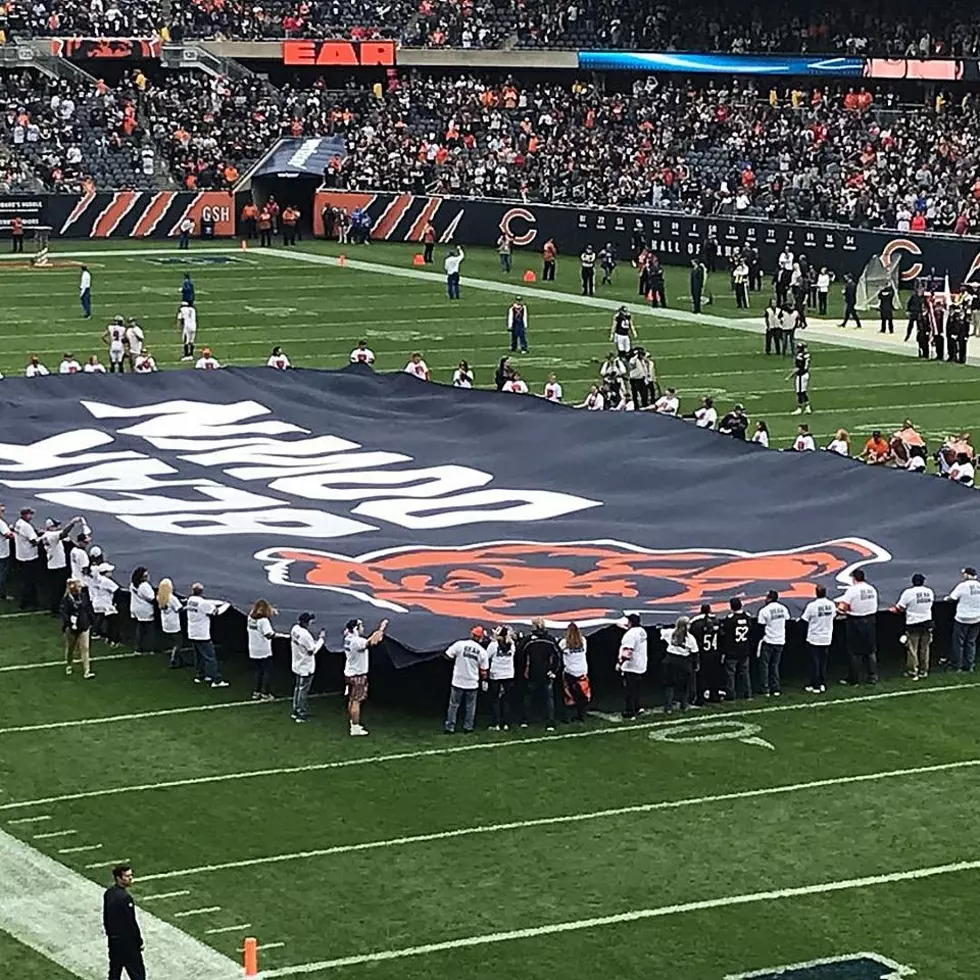 Soldier Field Could Be Back to Full Capacity for Bears Pre-Season Opener
Chicago-Bears-Soldier-Field
Word on the street is that Soldier Field is readying for a full house for the Chicago Bears pre-season opener August 14th against the Miami Dolphins.
Nobody really rushes to the box office to buy pre-season tickets, but with things being so abnormal, fans are excited to get back inside Soldier Field. At the beginning of May, the team announced that they would be allowing fans back into games but nothing was announced when it came to exactly how many would be able to attend games in person.
According to NFL Network's, Judy Battista, the Bears are one of 30 teams to have approval for full capacity stadiums to begin the preseason.
I'm sure there will be some strict policies to try and keep everyone safe, but I suspect hardly anyone will follow those guidelines. Maybe the first few pre-season games, but not once the expanded 17-game season begins.
The BIGGER question is how much will tickets be for the upcoming season?
That likely very big number has not been released. Here's another look at the Chicago Bears schedule for the regular season and pre-season.
Pre-Season
Game 1: Dolphins at Bears, Saturday, Aug. 14, noon
Game 2: Bills at Bears, Saturday, Aug. 21, noon
Game 3: Bears at Titans, Saturday, Aug. 28, 6 p.m.
Regular Season
Week 1: Bears at Rams, Sunday, Sept. 12, 7:20 p.m.
Week 2: Bengals at Bears, Sunday, Sept. 19, noon
Week 3: Bears at Browns, Sunday, Sept. 26, noon
Week 4: Lions at Bears, Sunday, Oct. 3, noon
Week 5: Bears at Raiders, Sunday, Oct. 10, 3:05 p.m.
Week 6: Packers at Bears, Sunday, Oct. 17, noon
Week 7: Bears at Buccaneers, Sunday, Oct. 24, 3:25 p.m.
Week 8: 49ers at Bears, Sunday, Oct. 31, noon
Week 9: Bears at Steelers, Monday, Nov. 8, 7:15 p.m.
Week 10: Bye week
Week 11: Ravens at Bears, Sunday, Nov. 21, noon
Week 12: Bears at Lions, Thursday, Nov. 25, 11:30 a.m.
Week 13: Cardinals at Bears, Sunday, Dec. 5, noon
Week 14: Bears at Packers, Sunday, Dec. 12, 7:20 p.m.
Week 15: Vikings at Bears, Monday, Dec. 20, 7:15 p.m.
Week 16: Bears at Seahawks, Sunday, Dec. 26, 3:05 p.m.
Week 17: Giants at Bears, Sunday, Jan. 2, noon
Week 18: Bears at Vikings, Sunday, Jan. 9, noon
[H/T BearsWire]
KEEP READING: Here are 50 of the most famous sports goofs
Steve Shannon is host of The Steve Shannon Show on 97ZOK. On the air weekday mornings from 6 to 10 a.m. and a special 'Rewind' show, featuring favorite moments from previous shows, on Saturday mornings from 5 to 7 a.m.. Follow him on Twitter, Instagram, and like his page on Facebook.
More From WROK 1440 AM / 96.1 FM