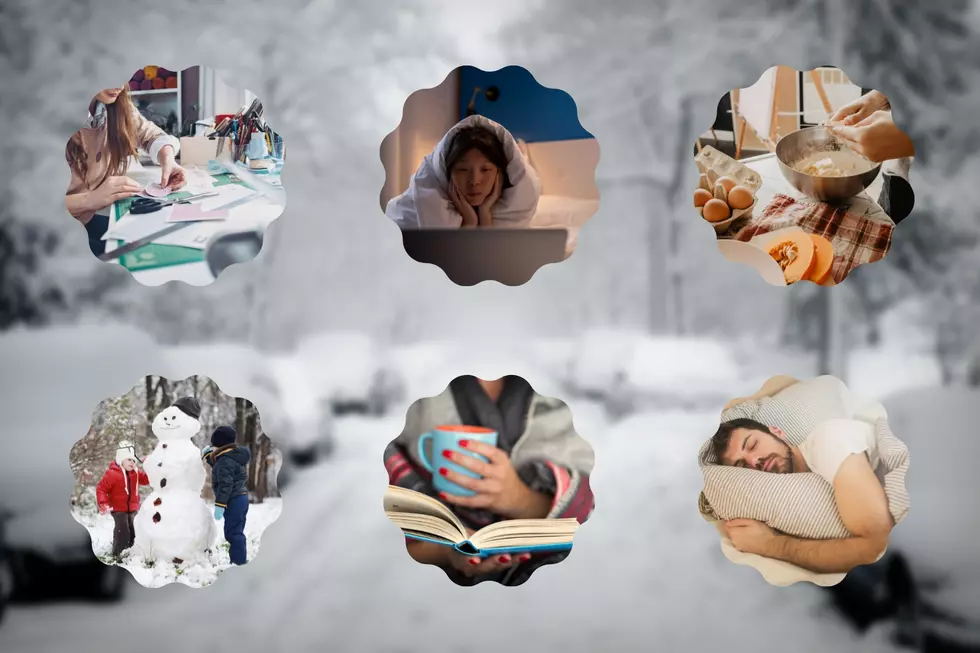 7 Fun Ideas to Beat Boredom During a Snow Storm in Illinois
Canva
If you find yourself stuck at home during a snowstorm in Illinois, there are plenty of ways to entertain yourself and pass the time!
I love staying home in general, so finding something to keep me occupied definitely isn't a problem.  Now, if there is a giant blizzard outside and the roads are crappy that's even more of a reason to plan a day of fun at home.
Here are 7 ideas I came up with so you don't go stir crazy stuck inside all day:
Get cozy and watch movies or TV shows.
Get in your pajamas, make some hot cocoa, and curl up on the couch for a movie marathon.  You could even binge-watch a new TV show or re-watching an old favorite.
Play board games or card games.
Dust off those board games that've been sitting on your shelf and have a game night! Classic games like Monopoly, Scrabble, and Clue are always fun, or Cards Against Humanity and Exploding Kittens are more unique choices!
Related: 10 Fun Games to Beat the Blizzard Blues In Illinois
Try a new recipe in the kitchen!
Snow days are the perfect time to whip up some comfort food in the kitchen. Try your hand at baking chocolate chip cookies, banana bread, a pie, or experiment with a new recipe for dinner.  Your kids will love it!
Get creative with arts and crafts.
Use the time indoors to let your creativity flow. You could try knitting, crocheting, painting, or drawing. If you're feeling adventurous, you could try a new DIY project like I love doing!
Build a snowman or make a snow angel.
It's like when you were a kid, you bundled up and endured the cold just to make the perfect Frosty in your front yard!  Just don't get trapped in the snow.
Read a book.  It's cool to read!
Use the snowstorm as an opportunity to curl up with a good book.  So many people are taking on new hobbies and reading is a great way to put your mind at ease while enjoying a great story.
PERSONALLY... MY FAVORITE:
GET SOME REST!
Snow days are the perfect time to catch up on some much-needed rest. Take a nap, sleep in, or just unwind.  If you have no obligations, let yourself relax!
No matter how you choose to spend your time during a snowstorm in Illinois, the most important thing is to stay safe and warm. Don't venture outside unless it is absolutely necessary, and make sure to stay bundled up!
10 of the Best Road Trips to Take When You Need to Escape Illinois This Winter
Alchemy Restaurant's Cozy Heated Igloos are The Perfect Rockford Winter Dinner Date
Private dining igloos are one of the most wonderful things to come out of the covid pandemic. Looks like a great night ahead and the view is spectacular.
More From WROK 1440 AM / 96.1 FM