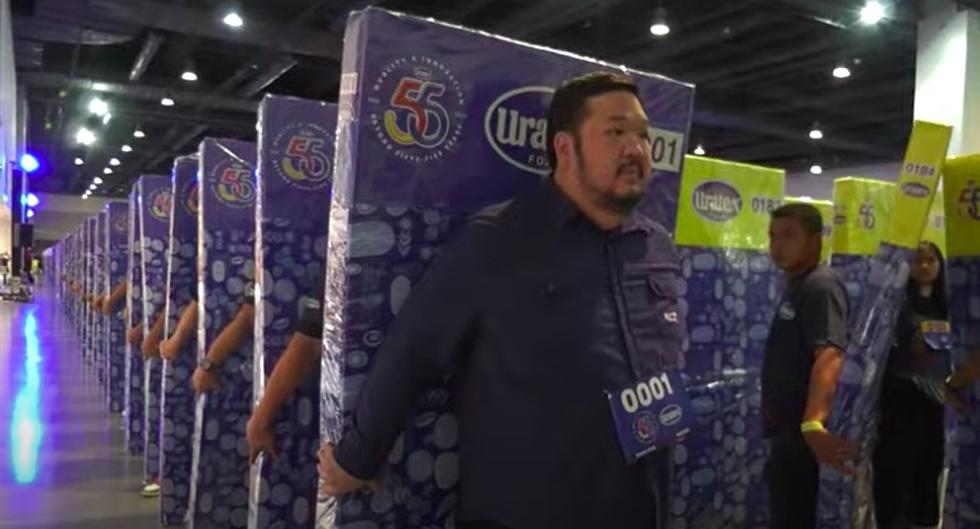 World Record Broken For Largest Human Mattress Dominoes
Most Human Mattress Dominoes EVER - Guinness World Records
Uratex, a mattress manufacturer in the Philippines, has toppled the world record for the largest human mattress dominoes with 2,355 participants.
Celebrating an Anniversary
The company celebrated their 55th anniversary with this massive endeavor and, following the record-breaking event, generously donated all the mattresses used to 55 charities across the country.
What Was The Previous Record?
The previous record of 2,019 people was set in Brazil in 2019.
Uratex's record was set not only with the participation of the company's employees but also representatives from various charities. The number of 2,355 was carefully chosen, with the first two digits representing the year 2023, while the last two signified the company's 55th anniversary.
Practice Falls
Before officially setting off the human mattress dominoes, participants were educated on how to fall safely by watching a video. Two practice runs were executed to ensure a successful event. Though the first attempt wasn't successful due to some mattresses failing to topple over, readjustments led to a successful record-breaking topple on their second attempt.
Uratex's CEO, Naty Cheng, initiated the successful attempt that lasted around 20 minutes and ended with all participants laid out on their mattresses on the floor.
Making Mattress History
This one is for the history books; not just for Uratex but for the country as well, a company representative stated. The record has been broken several times over the past 15 years.
The trend started in 2009 when Australia's Channel Nine established the record with 80 participants. Since then, it was broken several times, including on the set of the BBC children's show, Blue Peter, and by mattress companies from around the globe, including those in New Zealand, Portugal, China, USA, Sweden, Belgium, and Spain.
The record remained untouched for four years after 2012 when it stood at 1,150 participants set by the German furniture firm, Höffner Möbelgesellschaft GmbH & Co. The trend was reignited by Aaron's Inc. in 2016 when they set the record with 1,200 participants, with the video of their attempt attracting over 111 million views on YouTube.
More From WROK 1440 AM / 96.1 FM