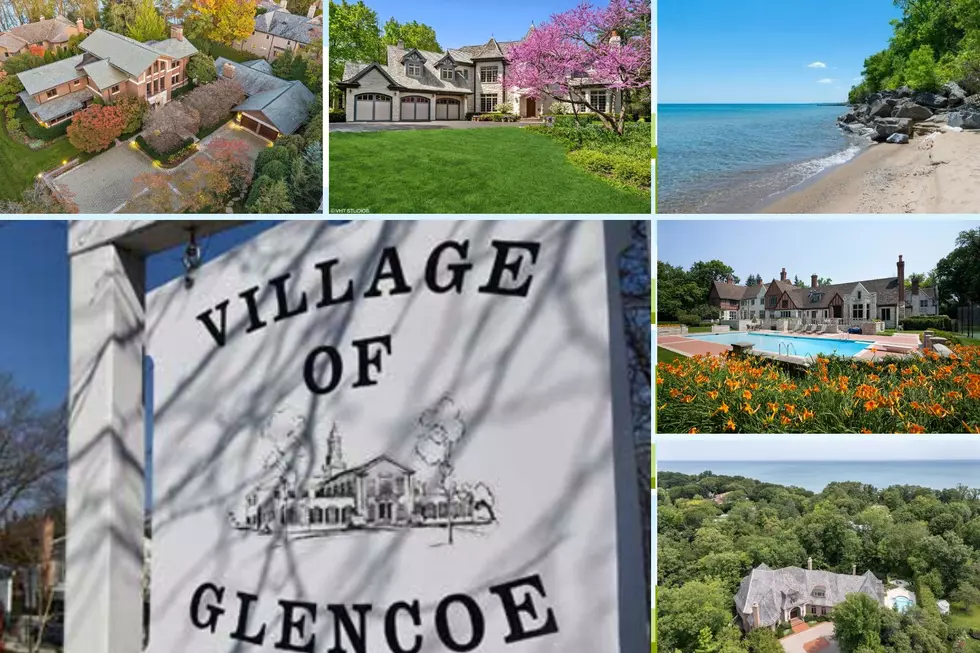 5 Most Expensive Homes for Sale in Illinois' Fastest Growing City
Glencoe Chamber of Commerce/Canva
This beautiful Illinois lakefront village has one of the highest incomes per household in the U.S. and is growing quite rapidly.
Get to Know Glencoe, Illinois
In the late 19th century and into the beginning of the 20th century, this north shore community became the location of many elegant homes. Glencoe is also home to several structures from the world-renowned architect, Frank Lloyd Wright.
The downside to this growth is that Glencoe's older homes are quickly disappearing and being replaced with larger homes for the area's growing wealthy demographic, according to kiddle.co. Historical preservation is a growing concern as property tax rates are rising, especially the tax bills on these five giant homes. We'll work up to the MOST expensive.
5 Most Expensive Homes For Sale in Glencoe, Illinois
5. 60 Hazel Avenue
This 8,321 square foot home has six bedrooms and seven bathrooms.
I get most excited to see the kitchens in these big expensive homes.
This list of most expensive homes for sale in Glencoe is full of some very beautiful and relaxing backyards.
List price: $3,499,000 (full listing)
---
4. 165 Maple Hill Road
This six-bedroom and seven-bathroom home is 7,600 square feet of fabulous with all of its spaces and upgrades.
Before you see the backyard sanctuary, look at this master bathroom.
List price: $3,599,000 (full listing)
---
3. 1015 Sheridan Road
This nearly 10,000 square-foot Glencoe home is about as secluded as you can get. After completion of a million-dollar 3-year-long renovation, this 6 bedroom, 6.5 bathroom home is on the market.
That overhead photo really shows off the kind of privacy this home provides.
List price: $3,649,000 (full listing)
---
2. 5 Briar Lane
Beyond having 9 bedrooms and 9 bathrooms, we don't know a ton about this house yet, but it is quite a spectacle. Sitting on the end of a cul-de-sac, this home sits on two acres of prime land.
List price: $4,950,000 (full listing)
---
1. 35 Aspen Lane
A true hidden gem right on the North Shore of Lake Michigan, that feels very much like you're living in a resort. Six bedrooms, six bathrooms, and 6,600 square feet of WOW! Yo don't want to miss what's inside this hoe, but it's the outdoors that show just how perfect this spot really is.
Let's take a little walk down these steps.
Just a little bit further.
Welcome to your private beach.
List price: $5,465,000 (full listing)
20 Most Expensive Homes For Sale in Illinois Right Now
More From WROK 1440 AM / 96.1 FM