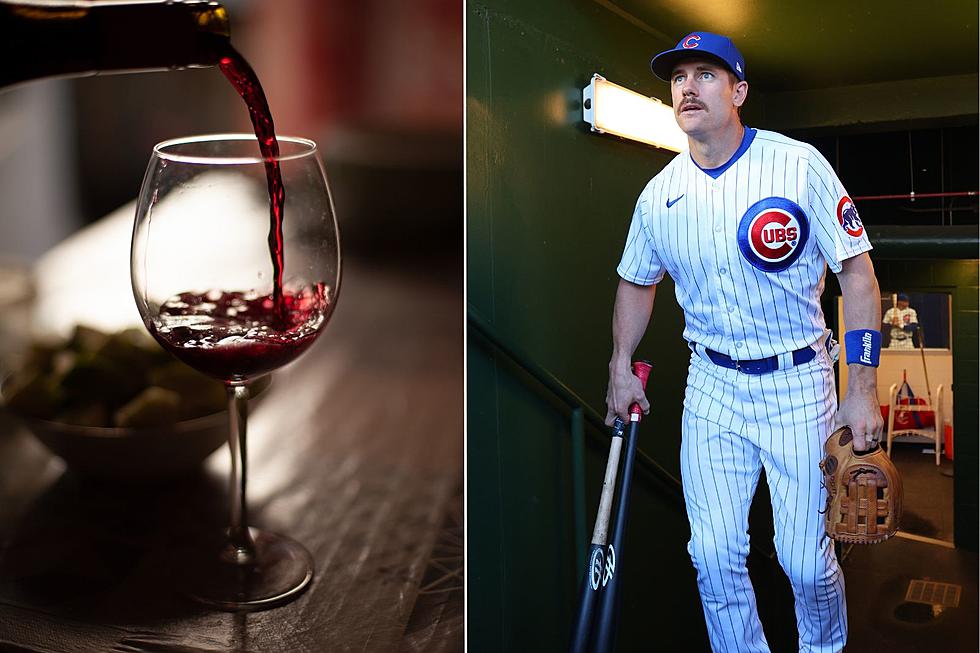 Chicago Cubs Slugger is Also a Certified Wine Maker
Canva/Getty Images
A member of the Chicago Cubs roster is already looking ahead to what he will do after is career after becoming a certified wine maker.
According to information recently shared on social media by the Cubs and the Major League Baseball Players Association, Patrick Wisdom recently completed his training to become a certified oenologist.
WineGeography.com says an oenologist supervises and manages the stages of wine production.
"An oenologist's primary responsibility is blending different grape varieties together to create a finished wine," the website states.
Wisdom pursued the certification after developing a love for wine.
"My interest stemmed from wanting to know more about the background and how it got into my glass," he said in the video.
Wisdom is a fan of older vintage wines, but also said he is open to trying new varieties as well.
While fans shouldn't assume, however Wisdom isn't fully committed to the Cubs as they battle for a playoff spot, he is considering where to go next in his pursuit of wine-making.
"Eventually, you know, hopefully (I would) open a winery and make my own wine," he shared.
Wisdom is one of several members of the 2023 Chicago Cubs who have turned their outside interests into business ventures.
Outfielder Ian Happ is a huge coffee drinker who has teamed up with Connect Roasters for his own blend of coffee.
Pitcher Marcus Stroman has penned two books targeted toward teens that chronicle lessons he has learned on the baseball field. A third book in the semi-autobiographical series is due out in 2024.
30 Hilarious Minor League Baseball Teams That Sound Fake, But Are Actually Real
We went through every Major League Baseball team's Minor League affiliate list to find the most hilariously creative team names and the ballpark promotions they present to their fans. From biscuits to Mullet Thursdays, here are 30 of the best Minor League Baseball team names and ballpark promotions.
REVEALED: Real Names of Current and Former WWE Superstars
Step between the ropes to test your knowledge of current and former WWE superstars. Can you guess the real names of these superstars of the squared circle?
More From WROK 1440 AM / 96.1 FM