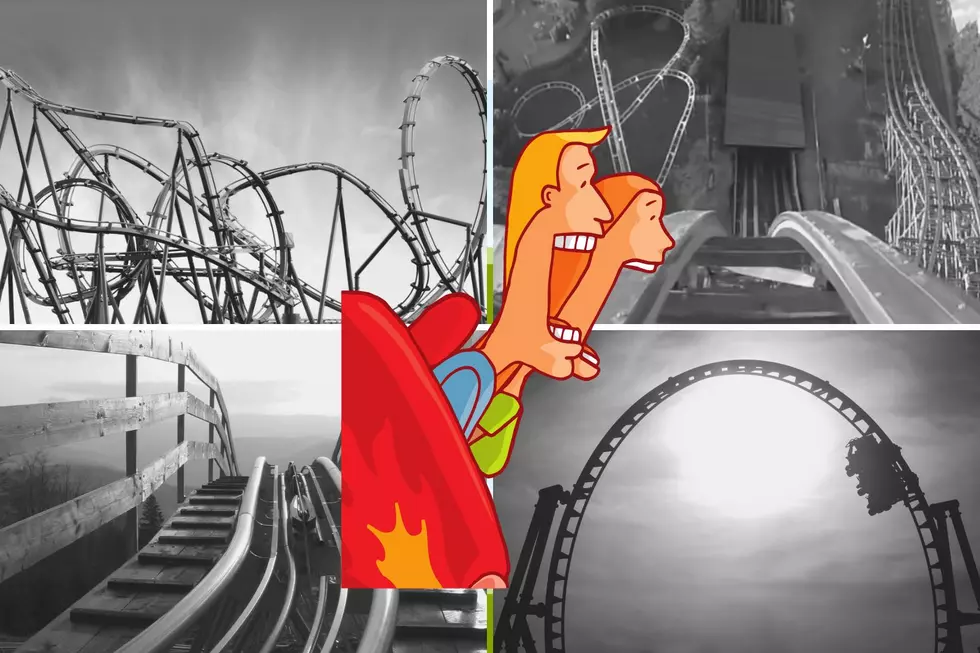 One of the Best Rollercoasters in the World is In Illinois
Six Flags/Canva
There was a time when I didn't fear getting on a crazy fast, big dropping, looping rollercoaster. Those days are over and this Illinois coaster is the one that broke me.
Best Rollercoasters in the World
Travel + Leisure recently went on the hunt for giant thrills. Not just any kind of thrill, just the heart-stopping, breathtaking, fear-inducing, tall, and fast rollercoasters. Their research (AKA their fear, their anxiety, their dizzy spells, and their vomiting) pointed to one of the fiercest roller coasters at Six Flags Great America theme park, located in Gurnee, Illinois.
There is no shortage of thrilling coasters at Great America:
American Eagle
Viper
Raging Bull
The Joker
BATMAN: The Ride
The Dark Knight
Demon
Whizzer
Maxx Force
SUPERMAN: Ultimate Flight
THE FLASH: Vertical Velocity
X-Flight
Take a look at that list again and see if you can figure out what rollercoaster is not mentioned. That missing coaster destroyed me during a visit in the summer of 2018. My daughter, her friend, and my new girlfriend of a few short months all wanted on this big coaster at the same time and I was extremely skeptical.
Let me say that my apprehension about getting on this coaster had nothing to do with my thinking the ride might not be safe, it just goes against a few beliefs I've been strongly clinging to regarding rollercoasters since the first time I rode the Demon and the American Eagle in the early 1980s.
Truths About Rollercoaster
These are my truths, what I believe about rollercoasters.
Wooden rollercoasters are too damn shaky and the seats are often too small for me to get into comfortably. I'm 6'4" and over 260 pounds, so I always feel like I'm not in my seat securely.
Wooden rollercoasters do not have loops. Like ever!
You definitely are not going to survive a looping rollercoaster without a shoulder harness
These are my beliefs, they are obviously not based on truth, they're based on my grown-ass man fears that have taken over my body in the last 5 years.
I'm sharing this exciting news about Six Flags Great America because those three women talked me into getting on the coaster now known as,
GOLIATH at Great America is One of the Best Rollercoasters in the World
Travel + Leisure chose the coaster Goliath, "the most extreme coaster of its kind, providing an adrenaline rush like no other." The travel site actually ranked the 19 Best Rollercoasters Around the World and Goliath is one of only six in the United States to make the list.
Goliath holds three world records, the world's fastest wooden coaster (72 mph), the world's tallest drop for a wooden coaster (180 feet), and the world's steepest drop for a wooden coaster at a near-vertical 85 degrees. (SixFlags.com)
Take the virtual Goliath ride in the video below.
5 'Must-Have' Chicago Hot Dog Experiences That Will Change Your Life
One look at these five Chicago hot dog spots and you will start to feel something move inside you. That's your hunger. Come eat and your life will never be the same.
More From WROK 1440 AM / 96.1 FM