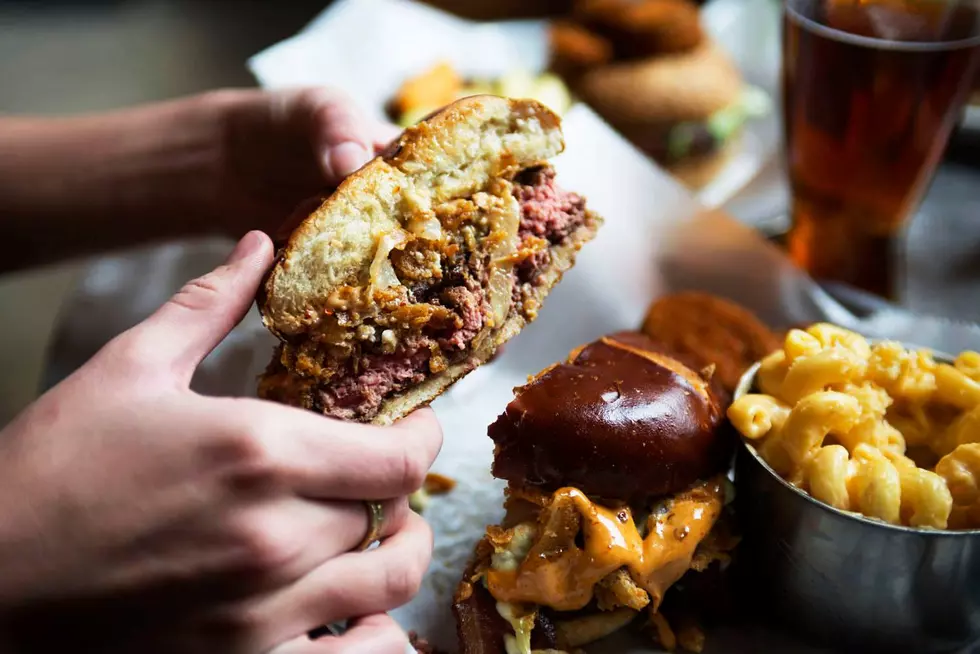 Wisconsin Foodies Blown Away By This Joint's Wildly Creative Burgers
Stack'd Burger Bar via Facebook
Not every burger purist is going to love what's going on in this restaurant, but for many, this is the perfect kind of life-changing flavor experience.
Best Burgers in America
There are many joints that make an exceptional burger, no matter your taste, it's not hard to find a favorite place to grab some burgers and fries and something cold to drink.
Like most great food experiences, it's not just about the food, it's also about the setting and the people with you. Maybe having that great burger is about sitting outside in the daytime sun, or as the sun is setting.
(Before you feast your eyes on the next great burger night in your life, pick the fun people that are going with you to try a new place)
Bigseventravel.com says this is one of the Best Burgers in Wisconsin, and from the looks of some of their creations, I 100% AGREE.
Best Burgers in Wisconsin
You'll find MANY great burgers at Stack'd Burger Bar in Milwaukee. The name of this place perfectly describes the burgers and the creative, locally-sourced ingredients. Whenever possible, the kitchen at Stack'd uses ingredients found in the state of Wisconsin to create their menu and some good-lookin' burgers.
Let's get messy!
Stack'd Campfire Burger
Lawd! Look at all that delicious in-between that bun.
The Big Stack'd
A hard-boiled egg, bacon, lettuce, and house-made 1000 Island dressing.
Stack'd BYO (Build Your Own) Gluten-free Bacon Cheeseburger
Stack'd BYO Double Bacon Cheeseburger
Have it the way you want it, on Texas toast.
Stack'd Fall Feast
This one is a tribute to all the best flavors of a fall feast. Grassfed beef burger topped with turkey bacon, mozzarella cheese, ranch seasoned sweet potato chips, mixed greens, and cranberry sauce
I don't know what Stack'd named this one, so let's just call it, "mine".
Topped with jalapeño bacon, gouda, pickled red onions, and dark ale mustard.
This next one has a name, but we can just call it "mine" also.
Stack'd Meat Lovers Cheeseburger
Grassfed beef, bacon, salami, pepperoni, mozzarella, red onion and giardinara.
Stack'd Blackbean Burger
Stack'd Mango Cheeseburger
Stack'd Spicy Bison Burger
Had to slide a little BBQ pork into this story. Take a look at the Pulled Pork Stack.
Your favorite fellow Foodies and this patio, for the 'Burger Night' win.
Stack'd Burger Bar is located in downtown Milwaukee's restored Kramer Foundry Building in the Fifth Ward, 170 S. 1st Street. They're open every day except Mondays. Here's the rest of their story.
Outrageous Burgers & Bloody Marys at This Wisconsin Pub and Grill
If a tasty burger and a giant Bloody Mary sound like a perfect meal, this popular Wisconsin pub and grill is a bit of Heaven on Earth. You better bring friends!
Amazing Southern Wisconsin Restaurants Featured on the Food Network
Wouldn't it be the absolute best if tomorrow started with someone saying to you, "you are fantastic on so many levels." How's that sound?
More From WROK 1440 AM / 96.1 FM