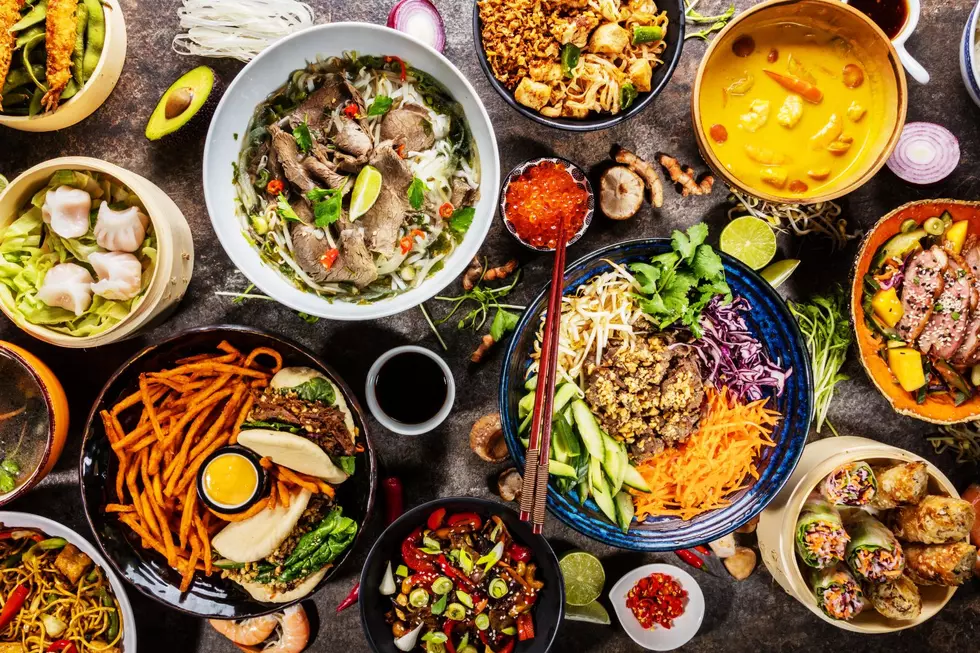 Rockford Area's Favorite Places to Go for Fantastic Asian Food
Canva
Do you get stuck in the rut of always going to the same place and ordering the same thing? This is the list that gets you to try some new places for Asian food.
Best Asian Restaurants in Rockford
There are dozens of places in the 815 to eat great Asian cuisine, picking the best is not an easy task.
I get nervous when choosing food I'm not all that familiar with and end up sticking to what I know I already like. It can be a bit tough to stretch out and try something new. Maybe for you, it's even difficult to add something besides just Chinese or Japanese food to your pallet.
The Steve Shannon Show asked who makes the BEST Asian food in Rockford, and these were the places mentioned most often.
Rock Pho'd | Asian Fusion | 6551 East Riverside Blvd | Loves Park
The signature Pad Thai
Everyone raves about the dragon-fried rice.
John N. said,
GET IN YOUR CAR...... GO HERE AND HAVE AN AWESOME MEAL!!!!!!!!

 
Zach H. said the food here is,
Scrum-diddly-umptious!
I bet I can make you taste this next photo.
It's "lime-marinated." You can taste that, can't you?
---
Lao Kitchen | Authentic Laotian | 1137 Broadway | Rockford
Review after review is fantastic, earning them a "5 out 5 Stars", according to Facebook reviewers.
Ann E. said,
been really homesick since moving to the states & missed my mom like crazy so I've also been looking for authentic Thai food and this is it. This is the place. Could not even find a better place in Chicago. If you're looking for real, authentic Thai food, THIS IS IT!!
Karen E. said,
Delicious food and decent prices! Limited menu so what they make, they make top-notch. I loved my beef Pho and crab rangoon.
Here's a review I never saw coming.
Jackie RP. said,
Their chicken wings are the best in town.
Another photo I'm starting to taste.
---
Spider Sushi Bar and Restaurant | 641 S Perryville Rd | Rockford
Let the rolls do the talking.
The Queen Roll.
Made with king crab, avocado, pineapple, mango, crab meat and topped with sauce and crunchy flakes.
Edward D. said,
Best crab rangoon ever! Wide selection of rolls with Tokyo and super hamachi rolls being my favorites. Awesome fried rice, bento boxes, and appetizers!
The Acapulco roll
Tracy F. said,
Went in today for the first time. Had the best experience.

 
There is another Spider Sushi location on Harrison Ave in Rockford.
---
Sister's Thai Cafe | Authentic Thai and Laos | 514 E State St | Rockford
Their Salmon Curry is topped with bell peppers, basil, and a red curry sauce.
Anthony S. said,
Best service and amazing food!!! I love this place! The patio is pretty!
Pad Mee noodles with a side of crab rangoon.
Rennae H. said,
Had a friend in from out of town and decided to try this Thai cafe. It was such a surprise. Loved loved loved it. Great food. Great service. Definitely recommend!
The spicy chicken-fried rice.
Another photo so good that you can almost taste it.
During the covid pandemic, Barstool Sports created the multi-million dollar Barstool Fund from donations received from some of the biggest names in the sports world. Part of that fund helped Sisters Thai Cafe stay afloat.
The 25 Best Rockford Restaurants for Cheap Eats According to TripAdvisor
Hungry but don't want to break the bank? Check out these places for the best cheap eats in Rockford.
Rockford's Three Most Criminally Overlooked Restaurants According To Yelp
More From WROK 1440 AM / 96.1 FM