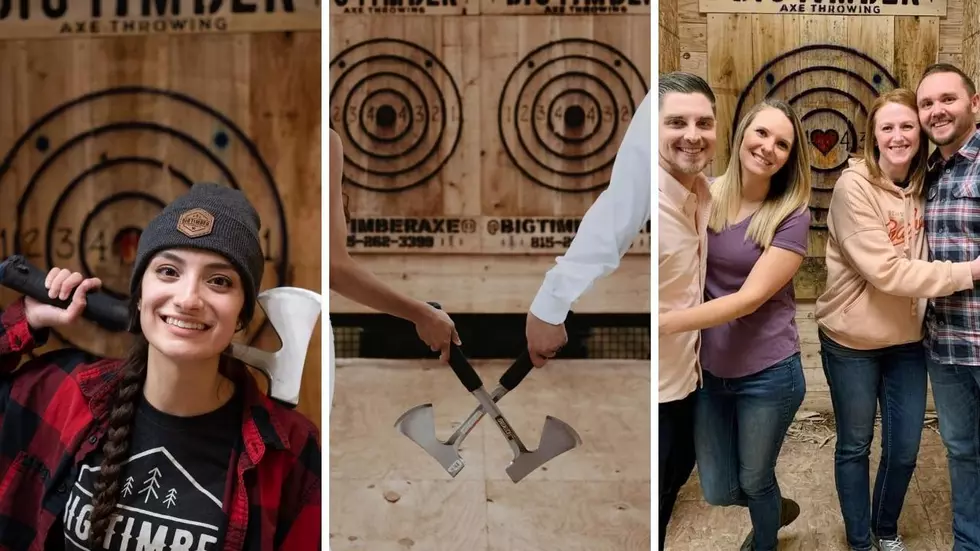 Here Are 6 Awesome Axe Throwing Axeperiences In Illinois
Big Timber Photos
This is a sport a lot of people hate on, but once you try it you'll totally understand why so many people love the game!  Learn from my mistakes.
I was one of those skeptical people when I first discovered axe throwing in Rockford.  I kept asking myself why anybody would want to throw an axe at a target over and over again.  I kept hearing great things about the one that opened in Rockford in 2020, Big Timber Axe Throwing.  Felt like just yesterday it opened!
I ended up going to Big Timber with some friends and when I tell you I was a Lumberjack in my past life... believe me.  It felt so natural!  The hype is real, you actually get a pretty decent workout from throwing for 1 hour with a REAL axe, too.  It's like bowling, but with a sharper object - you won't lose a toe I promise!  I made this list to break the stigma around this fun sport.
6 AWESOME AXE THROWING AXEPERIENCES IN ILLINOIS
BIG TIMBER AXE THROWING - 4249 E State Street, Rockford
Two of the coolest things about Big Timber are they're locally owned & their mobile axe throwing trailer!  You can rent out their trailer for any event; birthday parties, weddings, team building or reunions.  The axe coaches teach you everything you need to know!
AXE ZONE LOUNGE - 1592 W. Ogden Avenue, Naperville
Axe Zone has served over 20,000 guests into their business.  They have all new technology that makes them one of the best axe venues in Illinois!
BULLSEYE AXE LOUNGE - 601 N Martingale Rd, Schaumburg
This place looks AXECITING!  They have fire pits hanging from the ceiling, your group gets your own personalized music, a personal axe coach, and a photoshoot all included in the price of your visit!
MAXIMUM AXE THROWING - 8702 N. 2nd Street Machesney Park 
Not only does this venue have axe throwing, they have a golf simulator AND a smash room where you can release even more energy after you throw axes!
AXEPLOSION - 4020 Fox Valley Center Dr, Aurora
They consider themselves the BEST axe throwing lounge in Chicago.  You can join their leagues, throw at their mobile axe trailer, and love hosting team building events!
BULL & BEAR AXE THROWING - 620 Stratford Square, Bloomingdale
This venue is gorgeous!  Bull & Bear offer 30 minute sessions, 1-hour sessions, 90-minute PRIVATE ranges, and 2-hour PRIVATE ranges.  I'd love to have my own private area to focus on that bullseye!
So if you're still skeptical about why axe throwing is so fun, try it before you trash talk it!  Don't make the mistake I did because somehow, someway one of my best friends is the owner of Big Timber Axe Throwing in Rockford.  You never know what life has in store for you! Karma really came around this time and got me.
25 Rockford Things Only Locals Will Understand
Another 25 Rockford Things Only Locals Will Understand
More From WROK 1440 AM / 96.1 FM