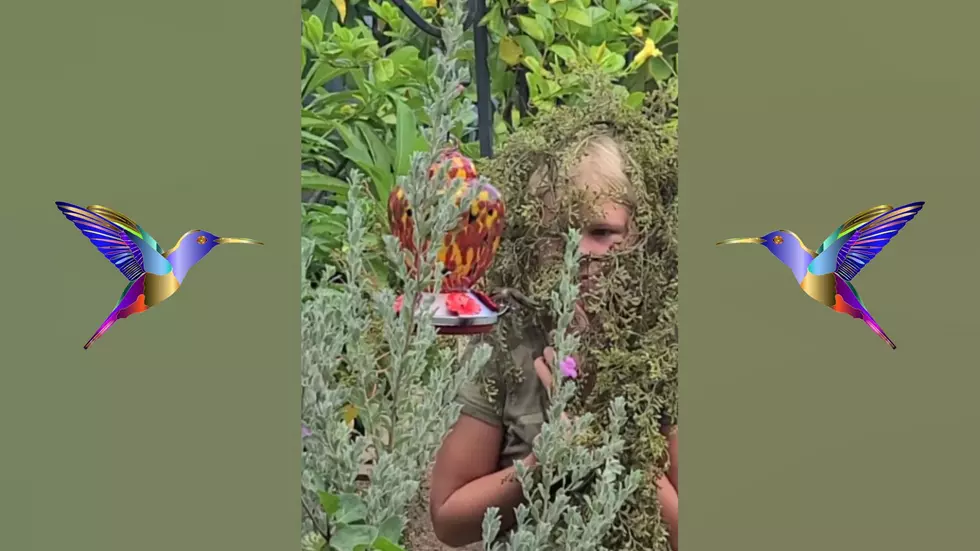 Watch a Girl Disguise Herself as a Plant to Watch Hummingbirds
ViralHog via Rumble/Canva
Well played, little girl. Well played. There's a new video of a young girl who wanted to watch hummingbirds close up so she disguised herself as a plant to make it happen (and it worked).
The woman who shared the video provided the backstory of how this little girl ended up looking like a fern.
I have so many hummingbirds each year around my feeders. Some friends came over with their 2 girls, and the oldest was trying really hard to get an up-close view. So I went and got some artificial vines and draped them over her head to camouflage her so she could stand really close. She loved every second, and so did we.
The best part is that her disguise completely worked like a charm.
Birds and Blooms recently shared a bucket list for hummingbird lovers. There are some great ideas on there including how to install a window feeder, what the little birds like to eat (sugar diluted in water works) and how to identify their calls. I think they need to add "make yourself look like a potted plant" to their list as I've never seen a more clever way to see hummingbirds close than what this girl did.
Genius.
See Inside an Off-the-Grid Treehouse Hidden Away in Rural Nauvoo
This Missouri Tiny House with No Wi-Fi (and That's a Good Thing)
More From WROK 1440 AM / 96.1 FM