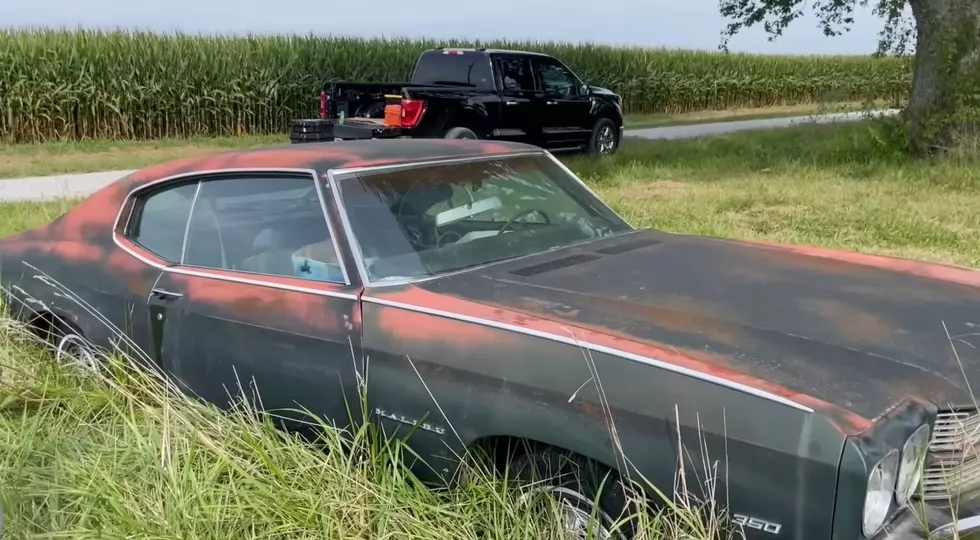 Watch a Barn Find 1970 Chevelle in Illinois Come Back to Life
What the Rust? via YouTube
You never know what you might find hiding inside an Illinois barn or in this case a corn field. A 1970 Chevelle that hasn't been started in over 27 years was recently brought back to life and you can watch it happen.
Full Disclosure: I am a car nut. No, I don't have any classic cars. Matter of fact is I only have one family vehicle and it has no air conditioning. That's not important. What is vital is a new video share that shows a YouTuber who specializes in car restorations who road tripped to Illinois to try and bring back to life a 1970 Chevelle that hasn't been started since 1995.
Here's a quick backstory he shared about what his project involved:
A viewer reached out for help with his Chevy Chevelle that he has owned since 1977. Unfortunately, it has been sitting on a farm next to a cornfield since 1995, and our clock is ticking. Will it start? Will it drive? What can be done?
Spoiler Alert: wait around till the end and you'll hear that classic engine roar again.
This 1970 Chevelle obviously needs a crap-ton of work done before it could be put back into service or sold. Just FYI, Hot Cars shows classic 1970 Chevelle muscle cars like this can go for upwards of over $70,000. Granted that's the SS version, but still gives you an idea how valuable this model can be when shown some TLC.
You won't find many of this model Chevelle still on the road today, but if you find one, cherish it. Hopefully this farmer is able to complete the full restoration so this beauty can cruise once again like it once did.
Patrick Mahomes Kansas City Home
More From WROK 1440 AM / 96.1 FM