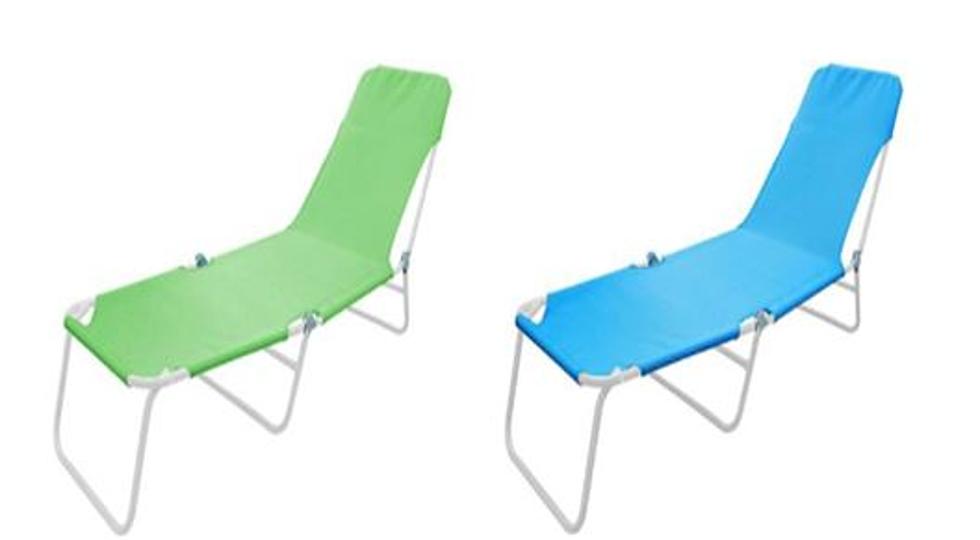 Turns Out These Dollar General Chairs Are Actually Finger Guillotines
cpsc.gov
If you treated yourself to a True Living Sling Lounger from Dollar General in the past year, they would like it back.
The United States Consumer Product Safety Commission issued a recall of the chairs on Wednesday, August 4th.
These bad boys.
Those look sturdy. What could possibly be the problem? Well...
The recalled loungers can collapse unexpectedly, posing an amputation, laceration and pinching hazard if finger gets caught in the metal folding joints.
There's no banana or anything on the chairs to get a reference of size but these look very small. They also look unable to support anything over 30 pounds. Also, I don't know how I know this, but I know for a fact that they are as light as this chair was.
Everyone had this chair in their garage at one point. It was very light, possibly bent. The straps were always very frayed and scratchy. The armrests, too small. A very uncomfortable chair. It was the last one you pulled out for guests.
We also had a version of this lounge chair when I was a kid.
Those were also not comfortable. In fact folding chairs were all pretty horrible until some genius thought up this design.
I honestly hope whoever was the first to design this chair won some type of award on the Nobel level. I mean, that example I pulled up is pretty uncomfortable as far as modern folding chairs go but still is tens time better than our options pre-2000.
Anyway. If you picked up one of those True Living Sling Loungers from Dollar General you can simply return it to the store and get your money back. Or don't and just live on the edge. I'm not your mom so I can't tell you what to do. God gave you ten fingers, you can spare at least 2 right?
50 Most Popular Chain Restaurants in America
YouGov investigated the most popular dining brands in the country, and Stacker compiled the list to give readers context on the findings. Read on to look through America's vast and divergent variety of restaurants—maybe you'll even find a favorite or two.
25 Retail Stores and Restaurants We Want in Rockford
More From WROK 1440 AM / 96.1 FM