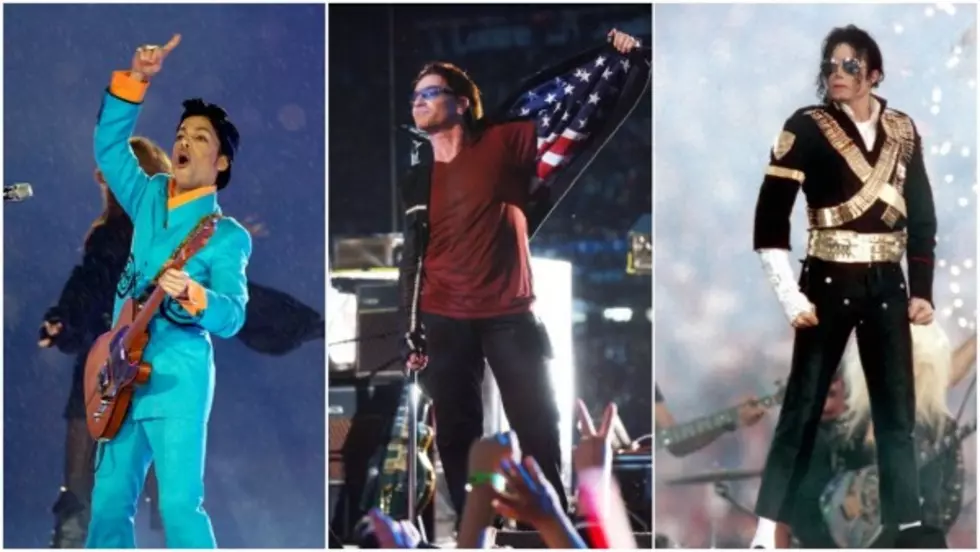 WATCH! These Are The 5 Best Super Bowl Halftime Shows, Change My Mind
Getty Images
The NFL's biggest game of the year is also the biggest concert of the year. The halftime gig is as big as it gets, and these 5 shows were as good as it gets.
The Pepsi Super Bowl Halftime Show is as BIG as it gets
At just shy of 15 minutes, the Super Bowl Halftime Show is the biggest concert of an artist or group's career, but it wasn't always this cool.
From 1967 until 1991, the Super Bowl halftime shows featured college and high school marching bands, big band & jazz stars, old-school crooners, and the service group who also sang, Up With People (check out wiki for the Up With People story).
The NFL wanted to boost its audience during halftime, so a move to more contemporary acts was a perfect choice.
Who was the first contemporary music act to perform at the Super Bowl
Do you know?
These giant Super Bowl Halftime productions with popular music stars didn't start until 1991 with New Kids on the Block.
Then it was Gloria Estefan in '92 and in 1993, the biggest pop star on Earth at the time.
Michael Jackson
The current popular musical act thing worked very well until Janet Jackson's boob was unsurprisingly uncovered by Justin Timberlake in 2004.
After 'Nipplegate', the NFL chose more of what they called 'family-friendly artists', for the next six years. Those years weren't bad, they just were lacking. Lacking in bold new ideas and showmanship, all the things we've come to love about the Super Bowl Halftime Show.
This 'BEST' list is my own creation. These were the shows I loved most.
---
These Are The 5 Best Super Bowl Halftime Shows... Change My Mind.
Janet & Justin in 2004
I still believe this whole thing was planned. He pulled off her breast cover right during the part of the song where he sings, "I'm gonna have you naked by the end of this song." He was only keeping his promise. These two were so hot together on that stage. The dancing, the music... and again, HOT. I mean come on. It's Janet and Justin.
This was a pretty star-studded show, too. Besides Janet and Justin; P. Diddy, Nelly, and Kid Rock were part of the show as well.
---
These Are The 5 Best Super Bowl Halftime Shows... Change My Mind.
U2 in 2002
America's most-watched television event brought us all to tears, as all the names of those killed in the terrorist attacks of September 11th, 2001, were featured on the moving backdrop. Emotionally, we were all so lifted as U2 began playing Where The Streets Have No Name. Bono runs a circle around the entire stage, then lifts open his jacket, and the lining inside was the American flag. I was numb.
You'll have to watch my favorite part of U2's performance on YouTube.
---
These Are The 5 Best Super Bowl Halftime Shows... Change My Mind.
Bruno Mars in 2014
Since the moment Bruno came on the scene he's proven he can do it all. What we didn't know until this performance is that he's also one badass drummer. This was the night, the little boy who was once an Elvis impersonator (look that up), grew up and owned the world. He was so good, they brought him back the following year.
---
These Are The 5 Best Super Bowl Halftime Shows... Change My Mind.
Michael Jackson in 1993
Nothing else needs to be said. The King of Pop.
Click to watch on YouTube.
---
These Are The 5 Best Super Bowl Halftime Shows... Change My Mind.
Prince in 2007
While Prince never disappoints, this performance was extra special. Lots of money is spent on these shows but no matter how much money you spend YOU CANNOT MAKE IT RAIN. And, it rained hard. It was a downpour. It rained on Prince as he played Purple Rain. That's the universe telling you... dis dude is the baddest m*****f***** of all time.
Here's EVERY Super Bowl halftime show ever.
Can you name all these quarterbacks?
LOOK: These Are the Richest NFL players
To uncover the richest NFL players,
Stacker
consulted
Celebrity Net Worth
and ranked them by their 2022 net worth, calculated using a proprietary formula.
More From WROK 1440 AM / 96.1 FM