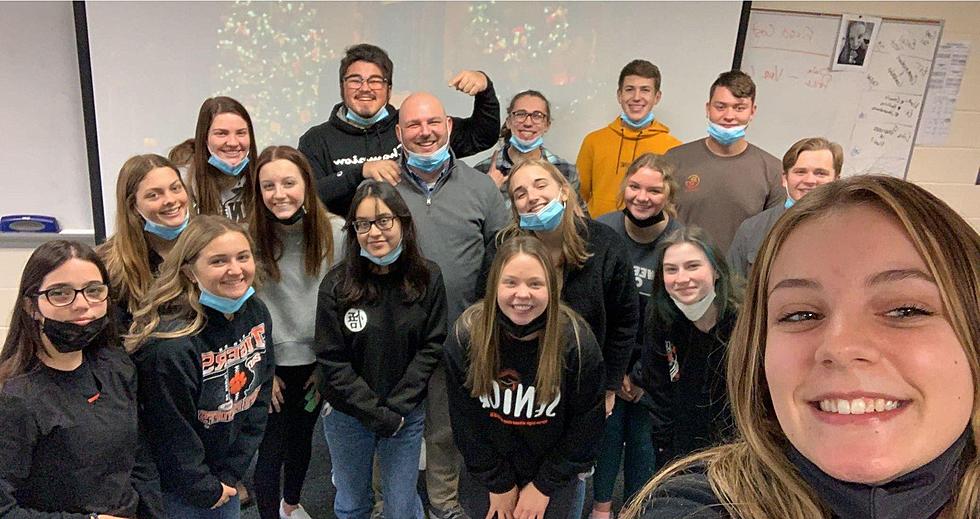 Small Town Illinois Teacher Filling State Champion Hallways with Joy
Submitted
The Byron Tigers football team winning a championship isn't the only thing making these high school students feel amazing.
Byron High School in Byron, Illinois is a pretty happy place to be the last few weeks as their football team won the 2021 Class 3A IHSA State Championship.
If you go into one particular classroom at the school, you'll find an even deeper level of joy and happiness.
I spend a lot of time talking about those two words,
Joy & Happiness
They are powerful words. They are powerful emotions. For me, they are the emotions that best support my ability to learn. I don't think I'm the only one that thrives in that environment.
97ZOK's New Teacher Of The Week
Richard Wessel, from Byron High School, runs a Business & Entrepreneurship classroom overflowing with joy and happiness. The students in his classes know they are part of something pretty special, that's a fact I'm sure of when I read his Teacher Of The Week nomination letter.
Mr. Wessel's nomination letter was written by one of his students, Maia Carlson, she writes:
"Mr. Wessel is the best teacher ever. No matter what kind of a day I am having, I always leave his class smiling, and he makes every day the best day ever. He makes everyone feel comfortable in the school environment, allows us to talk about our days, makes us laugh, makes the work we do in class fun and educational, and prepares us for our future. Mr. Wessel goes above and beyond to make our days better when we enter the classroom no matter what kind of a day he is having, and makes me look forward to his classes every single day. I cannot say this about any other teacher that I have had, because no other teacher has made this much of an impact on my education. Mr. Wessel deserves to get teacher of the week because I want to make his day just as good as he makes mine and my classmates every single day."
Congratulations, Mr. Wessel!
As 97ZOK's Teacher Of The Week, he was surprised with a beautiful floral arrangement from Broadway Florist and a delicious cake from Nothing Bundt Cakes.

Man Bundt Bakery: Small Illinois Bakery Creates Most Amazing Cakes You've Ever Seen
Every occasion that calls for cake, this is my 'go-to' spot. Sculpting the absolute coolest cakes around. A peanut-free facility, vegan-friendly and incredible.
The 25 Very Best Small-Town Illinois Restaurants
Looking for a great meal at a small-town restaurant in Illinois? Here are 25 of the very best.
More From WROK 1440 AM / 96.1 FM