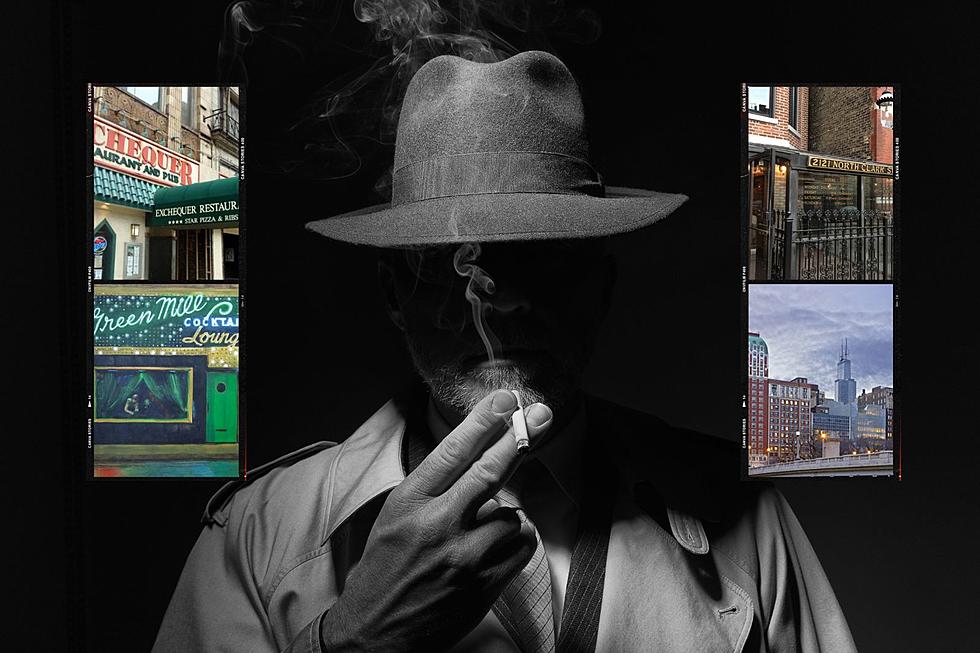 5 Prohibition Gangster Hangouts in Illinois That Still Exist Today
Exchequer Restaurant & Pub, The Blackstone Hotel, Green Mill Cocktail Lounge, Chicago Pizza and Oven Grinder Co. via Facebook, Canva
December 5, 2023, will mark the 90th anniversary of the end of Prohibition in the United States, but these 5 businesses in Chicago are still booming despite their infamous gangster history.
Old Mafia Hangouts in Illinois
The Prohibition era in Chicago was not Illinois' finest hour, and the rise in gangster activity during this time period is mostly to blame. The actions of gangsters and mobsters were deplorable at best, but I find it all completely fascinating as well.
I often find myself falling down internet rabbit holes about true-crime stories and the infamous people that are associated with them, and I was recently shocked to discover that many of the most popular gangster hangouts during Prohibition in Chicago still exist today.
Although not many reminders remain that Chicago was booming with unlawful behavior during Prohibition, Eater Chicago says 5 of the shadiest gangster hangouts from that time are still open for business today, even though they have different names now.
1. Butch Maguire's at 20 W Division St.
This building used to house a speakeasy called Kelly's Pleasure Palace which was a popular hangout for Prohibition-era gangsters. Maybe because it was one of the first speakeasies to serve Guinness and Harp on tap?
2. Chicago Pizza and Oven Grinder Co. at 2121 North Clark Street
Chicago Pizza and Oven Grinder Co. is located across the street from where the St. Valentine's Day Massacre took place, and many say this building served as a lookout post for the Massacre's gunmen. Its unfortunate location isn't the only tragic part of the building's history. Chicago Pizza and Oven Grinder Co.'s website says the years following the Massacre "were unkind to the old house as it passed through a series of ever less savory occupancies". In 1971 the original house was completely destroyed by a fire but has since been completely renovated and brought back to life.
3. Exchequer Restaurant & Pub, aka The Ex,  at 226 S Wabash Ave.
During Prohibition, this restaurant was called the 226 Club and was a favorite of Al Capone who spend a lot of time in the speakeasy that was located behind the restaurant. The Ex's website says;
The old architecture from the secret lounge, which was originally located upstairs, still remains above the ceiling of the Exchequer. The escape door that led to the basement also still remains in the middle of the dining room.
4. Green Mill Cocktail Lounge at 4802 N Broadway Street
These days the Green Mill Cocktail Lounge is a jazz club, but during Prohibition, this lounge was partly owned by Al Capone's right-hand man, "Machine Gun" Jack McGurn. Al Capone used the underground tunnels beneath this building to move his illegal liquor, but no, you can't go there and tour them according to Green Mill Cocktail Lounge's website. (Bummer!)
5.  Renaissance Blackstone Hotel at 636 S Michigan Ave.
This historic hotel has attracted celebrities, Presidents, and socialites since it opened in 1910, so it's no surprise that it was a favorite of mob bosses "Lucky" Luciano and Al Capone too. The Blackstone's website says Capone "held meetings while getting his haircut in the windowless barbershop at The Blackstone". 
This hotel was also featured in the movie 'The Untouchables' because it was the scene of the infamous confrontation between U.S. Treasury agent Eliot Ness and Al Capone which sent Capone and several other mobsters to prison.
FYI, Wisconsin was also a popular hangout for Illinois mobsters. Here's some of their favorite haunts North of the border...
10 Places in Wisconsin That Have Strong Ties to Gangster History
Illinois' 10 Most Infamous People
Here are some of the most infamous people in Illinois history, their crimes or controversies, and their impact.