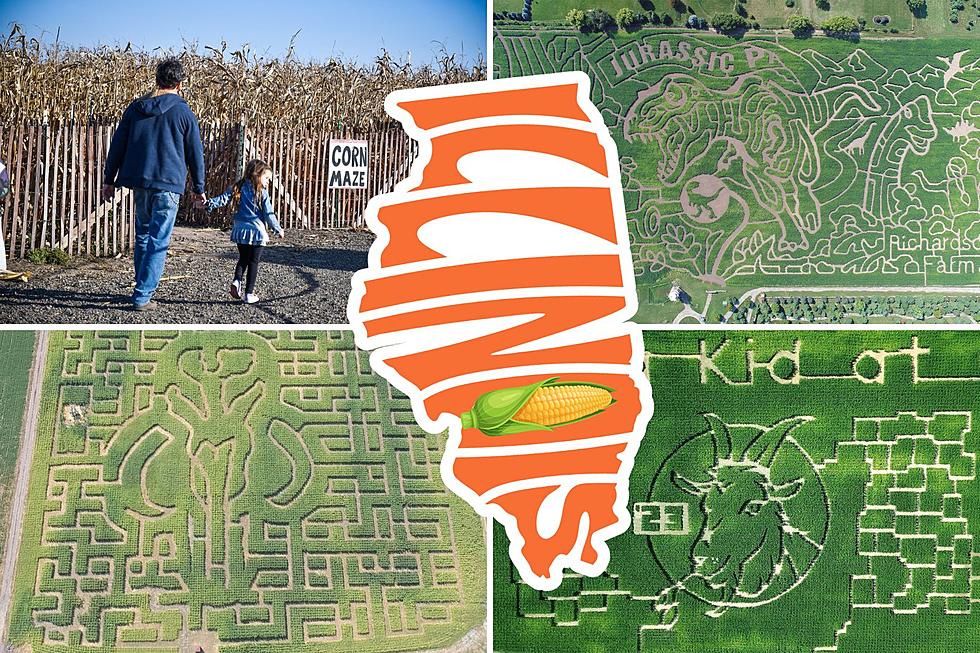 5 of The Biggest & Best Corn Mazes in Illinois
Richardson "World's Largest" Corn Maze Facebook, Odyssey Fun Farm Pumpkin Patch & Corn Maize Facebook, Konow's Corn Maze Facebook, Kroll's Fall Harvest Farm Facebook, Canva
Illinois fall fun lovers, we are so blessed to have the most incredible corn mazes anywhere in the world. Enough styles and locations to please every taste.
On more than one occasion, I've heard people make this statement about Illinois, in a rather derogatory tone.
Illinois is nothing but cornfields.
We're not all cornfields, but we sure do have a lot of them. And that's why I get to share these great places to take your family this fall.
The benefit of being 'nothing but cornfields' means Illinois has many fun and challenging places to 'get lost' in one.
Illinois Best and Biggest Corn Mazes
Below, are some of the most amazing corn maze experiences in the state. Big ones, small ones, challenging ones, and ones for all skill levels. Even some of the big mazes have smaller sections for small children.
Kroll's Fall Harvest Farm
While some corn mazes are part of a very large pumpkin patch, orchard, or commercialized farm market, Kroll's is a smaller, family-owned Agriculture Education Farm. Kroll's Fall Harvest Farm is located at 13236 W Town Line Road in Waukegan, Illinois. Just because the farm is small, doesn't mean that's the case for their corn maze.
Just looking at the path to the maze will take your breath away.
---
Konow's Corn Maze
This place offers two corn mazes. Konow's at 16849 Cedar Road in Homer Glen, Illinois has a maze for those who came to be challenged (over 3 miles), and for the littles (0.4). This is also a great spot to get your pumpkins. Konow's has on-site games and rides.
So many fun things to do at Konow's no matter your age.
---
Hardy's Reindeer Ranch
Get ready for a unique road trip to Central Illinois. A herd of Alaskan reindeer awaits you at Hardy's located at 1356 County Road 2900 N Rantoul, Illinois. In fact, you can get up close with the reindeer. Visit Hardy's on Facebook to see photos of their rather big 10-acre corn maze. Hay rides, pedal race carts, a country gift shop, a paintball shooting gallery, and concessions on the weekends in the fall.
This video perfectly demonstrates how fun a visit to Hardy's could be.
---
Odyssey Fun Farm Pumpkin Patch & Corn Maize
5 acres full of family-friendly activities: Giant pillow bouncy, an expanded barnyard zoo, a cow train, duck races, hay rides, and pony rides, too. Odyssey farm is located at 18900 Oak Park Avenue in Tinley Park, Illinois. They paid tribute to the classic video game, Pac-Man, for their maze in 2021.
Clearly, there's a lot going on at Odyssey.
---
Richardson Adventure Farm
You won't find a corn maze bigger than the one at Richardson's farm.
This place really has it all. A 700-foot zip line and a 50-foot observation tower. An attraction called ORBiting!, where you ride inside a giant 11-foot ball. There are live pig races, jumping pillows, giant slides, and more. Richardson Adventure Farm is located at 909 English Prairie Road in Spring Grove, Illinois.
5 Perfect for Fall Apple Orchards in Northern Illinois to Visit
Illinois summer lovers will tell you that deep down, they can't wait for a fall trip to an apple orchard. We're blessed to have some great orchards so close.