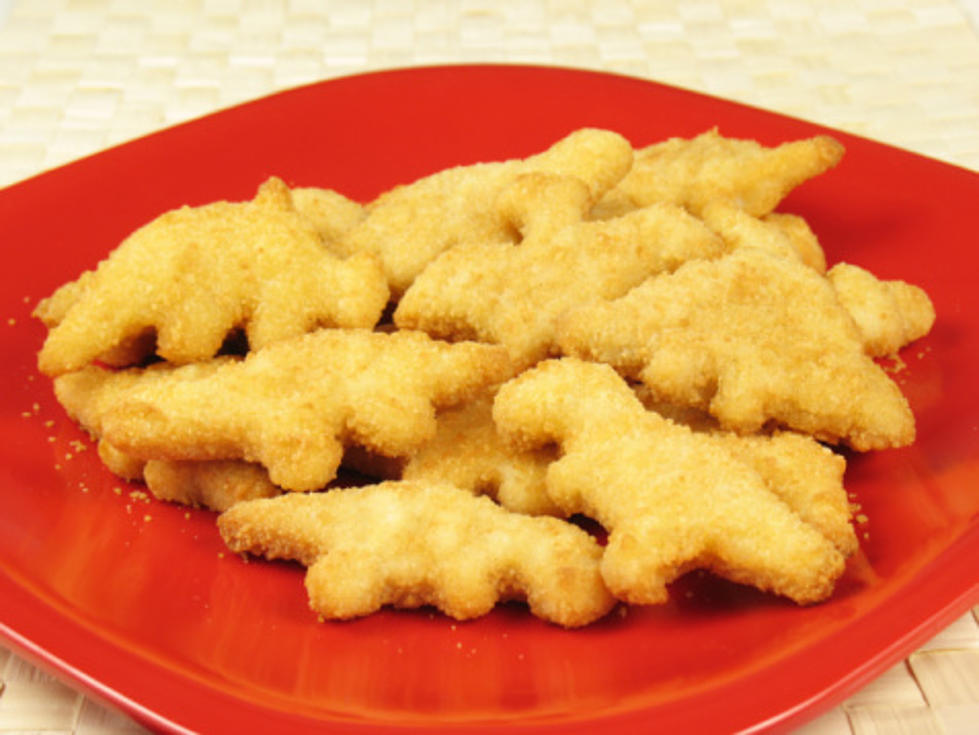 Illinois Chicken Recall: 30,000 Pounds May Have Metal Pieces
Getty Images
There was a time in our household that frozen, dinosaur-shaped chicken nuggets took up a fairly decent sized area in the freezer, but now that the kids have gotten older and have apparently developed "more sophisticated palates," it's been awhile since there has been a tasty velociraptor or two sitting on the kitchen table.
Which will make the freezer search for recalled Tyson chicken nuggets unnecessary at my house, but based on sales, very necessary for many Illinois and Wisconsin homes.
This Particular Recall Isn't About E. coli, Listeria, Or Salmonella--This Is About "Foreign Matter" Being Found In The Product By Consumers
While the term "Foreign Matter" doesn't sound good at all, it does sound just a little bit better than another term being used, which is "Extraneous Materials."
Regardless, the foreign matter/extraneous materials we're talking about here would be metal pieces.
USDA:
Tyson Foods, Inc. a Berryville, Ark., establishment, is recalling approximately 29,819 pounds of fully cooked, breaded, shaped chicken patty product that may be contaminated with extraneous materials, specifically metal pieces, the U.S. Department of Agriculture's Food Safety and Inspection Service (FSIS) announced today.

The problem was discovered after the firm notified FSIS that it had received consumer complaints reporting small metal pieces in the chicken patty product.
Let's Get To The Important Stuff, Like What To Look For, Product Codes, And What To Do If You Find The Recalled Products In Your Freezer
The U.S. Department of Agriculture's Food Safety and Inspection Service (FSIS) points out that there has been one reported minor oral injury associated with consumption of this product, but at this point FSIS has received no additional reports of injury or illness.
The specified product should be thrown away or returned to place of purchase for a refund.
USDA:
The frozen chicken patties were produced on September 5, 2023.
29-oz. Plastic bag packages containing "Tyson FULLY COOKED FUN NUGGETS BREADED SHAPED CHICKEN PATTIES" with a Best If Used By date of SEP 04, 2024, and lot codes 2483BRV0207, 2483BRV0208, 2483BRV0209 and 2483BRV0210.
The product subject to recall bears establishment number "P-7211" located on the back on the package. The product was shipped to distributors in Alabama, California, Illinois, Kentucky, Michigan, Ohio, Tennessee, Virginia, and Wisconsin for further distribution to the retail level.
Here's what you're looking for:
Most popular grocery stores in America
Gallery Credit: Stacker
From coast to coast: The 20 best regional fast-food chains to try
From burgers to subs and even creamy milkshakes, these tasty fast-food chains, compiled by
Stacker
, are a must-try on your next road trip.
Gallery Credit: Kiersten Hickman
More From WROK 1440 AM / 96.1 FM