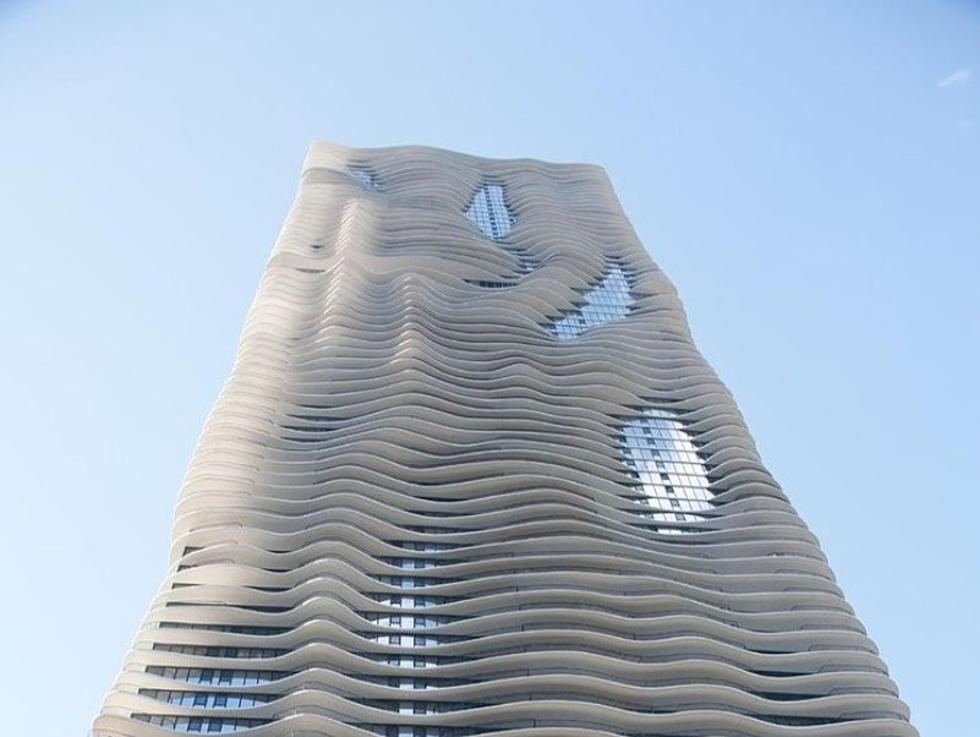 Gigantic Illinois High-Rise Called One of America's Weirdest Buildings
aqua_chicago via Instagram
There are definitely some strange-looking buildings in Illinois but apparently, this one is the weirdest of the bunch.
The best part is that you can actually live in this place if you got the dough.
According to House Beautiful's Weirdest Buildings in Every State, you'll need to head to Chicago to see the craziest complex in Illinois.
Soaring 82 stories above Chicago, Illinois, the sculptural Aqua Tower is the tallest building in the U.S. to have been built by a female architect, Jeanne Gang. The apartment building's eccentric terraces are designed to increase neighborly interactions.
Taylor B. on TripAdvisor says "Aqua is noted for the unique design of its balconies, which give the building a remarkable silhouette. The pattern of undulating balconies, from the tower's base all the way to the top, make for an interesting facade. The effect is especially beautiful when viewed up close when it looks almost like waves in the ocean, which explains the tower's name."
Keep in mind, you don't actually have to buy a home to live at the Aqua Tower in Chicago.
These are rentals, you know, apartments? I'm sure you already figured rent at this place is not cheap.
According to Apartment Finder, studio apartments at Aqua start at $1700, while one-bedroom homes are listed at $2300 and two-bedroom cribs are nearly $4000 monthly.
If you live in Chicago or moving to The Windy City and have the means, why wouldn't you want to live at Aqua Tower?
You could tell everyone you know you live in Illinois' weirdest building.
Don't want to rent? Check out the $5M Chicago River North Mansion listed by Michael Jordan's Ex-Wife
The ex-wife of Chicago Bulls great Michael Jordan, Juanita Vanoy Jordan sold her Georgian-style mansion in Chicago's River North for a big loss.
LOOK: 15 Discontinued McDonald's Menu Items
READ ON: See the States Where People Live the Longest
Read on to learn the average life expectancy in each state.
More From WROK 1440 AM / 96.1 FM