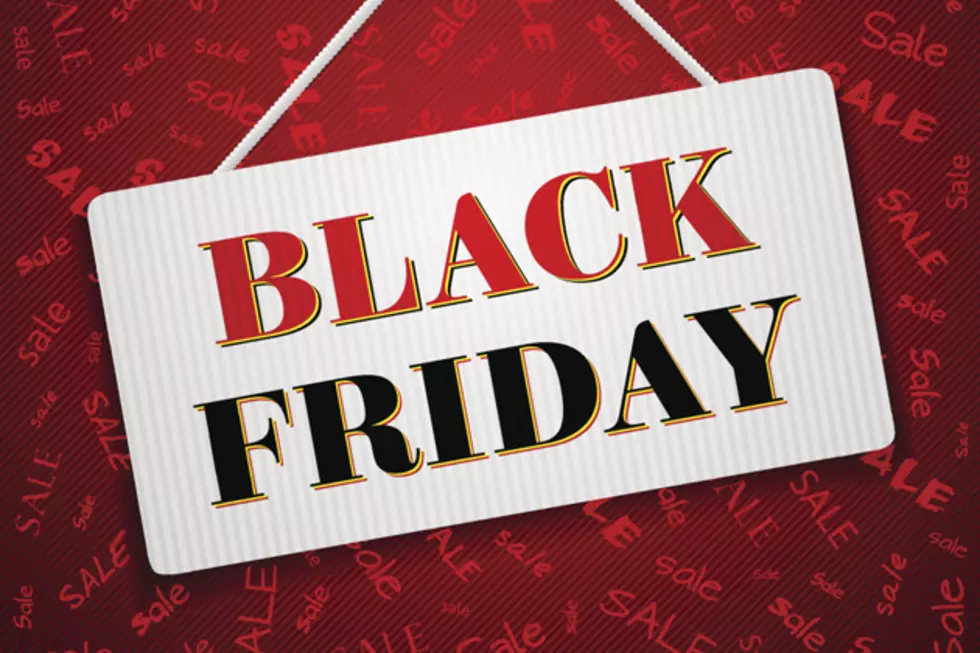 Black Friday 2013 — A Guide to the Best Deals in Stores and Online
iStock
Black Friday has grown into a weekend of consumer-oriented festivities starting as early as 6 a.m. on Thanksgiving Day. We've put together a guide as to who's open when and what kinds of deals you can find when you shop, either at brick-and-mortar stores or on the Web:
Stores
Walmart 
Walmart is staggering their Black Friday discounts with a couple of special pricing events to get things started. At 6 p.m. on Thanksgiving, for one hour you can get great deals on electronics and toys, like an iPad Mini for $299, a 32-inch LED HDTV for only $98, bikes and other sweet kids' rides for under $100 and tons of stuff for the home.
At 8 p.m. on Thursday, the next event begins. Then you can get crazy deals like Beats by Dre solo headphones for $115, a 50-inch Emerson LCD for $288 (a $210 markdown) or a Roku HD streaming box for only $39.
The Friday deals start at 8 a.m. on November 29 and are good through Sunday (while supplies last). Plus, this year they have a one-hour in-stock guarantee. If you're in line within one hour of the start of the Black Friday deals, you are guaranteed the item you're shopping for at the Black Friday price. Finally, if you don't want to line up in the cold, they are also starting Black Friday deals online on Thursday morning. The discounts change fast, so check online and plan your trip.
Best Buy
Best Buy starts their holiday shopping season at 6 p.m. on Thursday. Then, at midnight, new deals will take effect (you can check them out online at 10 p.m. before you shop). In a third wave of doorbuster deals, there will be new discounts offered at 10 a.m. on Black Friday. Some of the deals they've already announced include a 16GB Apple iPad 2 for $299 (a $100 discount); a 16GB Amazon Kindle Fire 7 for only $99; blockbuster Blu-ray movies for just $8; and a Samsung Galaxy S4 4G LTE phone for free with a two-year activation.
Best Buy is also offering great deals online, so if there's something you want but you can't get away to shop, keep your eyes on their website for a chance to purchase gifts and get free shipping.
Kohl's
Kohl's stores will open at 8 o'clock on Thursday night and have special Black Friday deals until 1 o'clock Friday afternoon. They've got video games for under $20, toys at 50 percent off, a Keurig for $99, a Cuisinart food processor for $79 (a $100 discount) and clothing at 50-60 percent off. On top of the great deals, you'll also get $15 in Kohl's cash to use later for every $50 you spend over the weekend. Kohl's is allowing you to forget about leaving the house on Thanksgiving, they've already started their online discounts (which are good through 2 p.m. EST on Friday) and are providing free shipping on purchases over $50.
Target
Doors will open at participating Target stores at 8 p.m. on Thursday night. They've got tons of doorbuster deals, including a Nikon L320 camera for $99, Beats by Dre solo headphones for $119, a Nintendo 3DS game system for $149 (which they say is their lowest price ever on the device), a 50-inch LED HDTV for $229 (along with lots of other deeply discounted HDTV televisions) and smartphone deals like a Samsung SIII for a penny and a 16GB iPhone 5S for only $180. Check their site for a preview of many of the deals in their Black Friday ad. Target has also kicked the shopping season off with deals online, but the discounts are only good through the 27th (before the in-store shopping begins), so hop on the Web soon to cash in.
JCPenney
Like many other retail giants, JCPenney will open its doors at 8 p.m. on Thanksgiving and Black Friday discounts end in stores at 9 p.m. on Friday. They're advertising doorbusters and big buys, but only while supplies last. Big deals at JCP will be deeply discounted housewares, like a Pyrex set cut from $50 to $18 or a $100 Mikasa dish set for only $35. Luggage and bedroom sets will be 60 percent off, and great buys on jewelry like a diamond solitaire marked down to $1,499 from $2,495 (with a rebate). They're taking 60 and 70 percent off of most fashions, and you can get your seasonal boot fix for only $20. JCP is also helping you beat the crowds by offering big online deals until Thanksgiving. They're also offering Black Friday deals online all day Thursday, through 1 p.m. on Friday.
Toys R Us
If there are toys on your list, you're in luck because you can start at Toys R Us. Their doors open at 5 p.m. on Thursday. In addition to their Black Friday discounts, they'll have four-hour deals from 5 until 9 on Thursday and then fresh doorbuster deals at 5 a.m. on Friday through Saturday. For the kids in your life you can find Furbies and LEAPFROG Leapsters for only $30, LEGO Chima Eagle's Castle set for $22.49 and other LEGO sets for 30 percent off, all Disney Treasury books for just $6, movies from $4 to $15 and MONSTER HIGH Ghouls Rule Dolls for only $10. And, if you can't wait to get your shopping done, you can hit the Internet and get deals starting at 12:01 on Thursday morning. Find their Black Friday ad online and make your shopping list ahead of time.
Kmart
Set your alarm for a little earlier in the day and let your family handle the cooking, because the Black Friday deals at Kmart will begin at 6 a.m. on Thursday. If you shop on the holiday, you can get an RCA 32-inch LCD television for $180, a 7-inch 4G Android tablet for $40 and buy-one-get-one on board games. Black Friday deals good on Thursday, Friday and Saturday include an Evolution 4-in-1 swivel game table for only $200, BOGOs on all footwear and thermal underwear for the family, 75 percent discounts on fine jewelry, all Craftsman tools priced at 35 percent off, DVDs and Blu-ray starting at $3 and a $300 discount on an RCA 60-inch LED HDTV. Online deals have already started at Kmart.com and you can find their Black Friday ad to see all the deals for the weekend.
Sears
Sears starts its doorbuster deals at 8 p.m. on Thursday. Deals will be good while supplies last or until 1 p.m. on Friday. Big discounts at Sears include a Kenmore 25-cubic-foot refrigerator marked down from $2,600 to $1,300; a Kenmore washer/dryer pair for $800; a 50 percent discount on Craftsman tool sets; jeans and sweaters for $13; a 40 percent discount on fragrance sets; and 60 percent off kids' clothes. Deals are staggered, so check their ad online before you plan your trip. Also, online deals start Wednesday at 7 p.m. EST so you don't even have to leave your house on Thanksgiving.
Staples 
Make sure you put Staples on your shopping list, because they've got some deals going on. Doors will be open from 8 until midnight on Thursday, and again at 6 a.m. on Friday. Samsung fans can pick up a Galaxy S4 for only a penny. Yes, one cent (with a two-year agreement). They've also got a Kindle Fire 7-inch for $79 (an $80 discount) and a Kindle Fire HD 16GB for just $169. You can also save $150 on an HP Chromebook and $200 on a Toshiba laptop. There are huge discounts on lots of tablets and laptops, as well as all kinds of home office equipment. There are already Black Friday deals going on at their website if you'd prefer to shop at home by a warm fire.
Online
Amazon
If you've decided to enjoy the entirety of your holiday weekend in the comforts of your own home, you can still do plenty of good shopping online. Amazon has been matching advertised Black Friday deals online all week. There's the Kindle Fire HD for $139, a Dremel Ultimate 3-tool kit for only $150 and DVDs and Blu-rays under $10. The deals change daily, are all in limited supply and new ones are added sometimes as quickly as ten minutes, so if you're looking for something in particular, you'll need to keep your eyes on the site. But if you've seen a store advertising a good deal, check Amazon first and stay home.
eBay 
You can also shop in your pajamas and find sweet Black Friday deals on eBay. Black Friday countdown discounts are already going on. The deals are staggered and for a limited time, so you have to pay attention. The good news is they're doing 10 days of deals and you can shop the low prices through December 5. Find discounts on electronics like iPads and iPhones. They've got jewelry marked down 80 percent from list prices and watches discounted 75 percent. Beats by Dre studio headphones are marked down to $160 and remote control helicopters for $18. There are LEGO sets for under $50 and the Katniss Everdeen Barbie doll for $25. There's a deal on just about everything you can think of on eBay, so if you miss something while you're out on Friday, check the site when you get home.
Apple
If you're an Apple fan, you get to join in the Black Friday fun too. Starting at midnight on Friday morning, you can find deals online or in Apple stores on electronics and accessories. They're throwing in free shipping and free engraving on iPads. The 16GB iPhone 5S will be priced at $199 for the day. The iPad Air will be $499 and the Mini will be $399. The price on Apple TV will be cut down to $99. There are all kinds of gifts on the site and your whole family will think you splurged on them.
Google Play
Google Play isn't going to be left out of the cyber-shopping season. Right now you can get a Chromecast for only $35 and get a free rental if you buy. They're also offering a $25 Play Store credit and free shipping to anyone who purchases a Nexus 7. They could offer up more deals to stay in the game, so make sure you check back if you're in the market for a Google device.
More From WROK 1440 AM / 96.1 FM