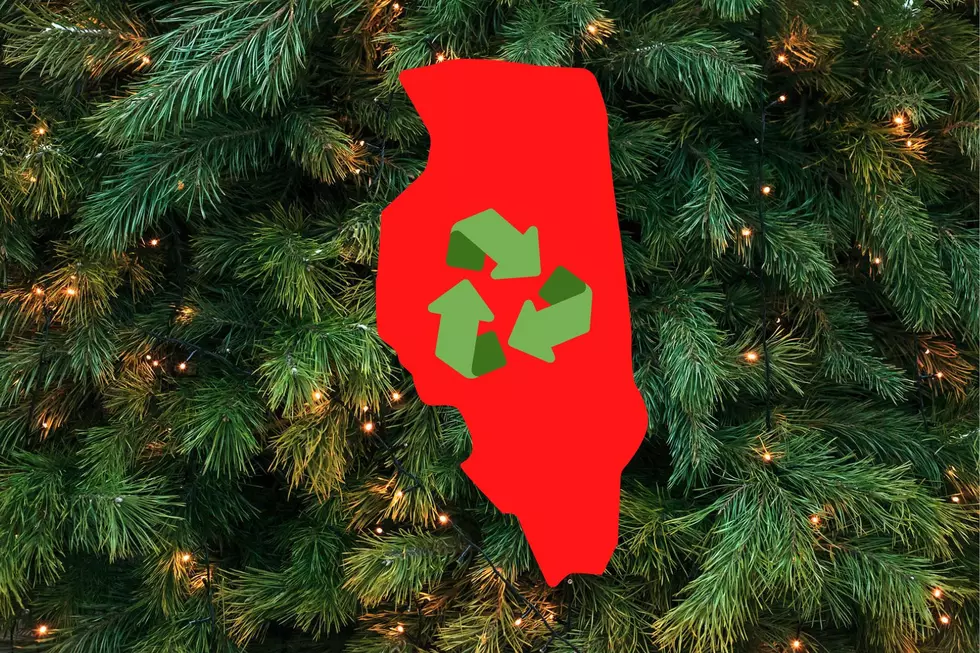 Is It Illegal in Illinois to Toss Your Christmas Tree in the Trash?
dmf87
Unless you used the special recipe that reportedly keeps the tree fresher for longer, it's probably time to make a plan to discard your tree now that we're past Christmas and just a few days away from the new year.
Don't throw your Christmas tree in an Illinois ditch
While driving home yesterday I noticed that someone's tree, which I'm sure was recently decorated and proudly displayed in their living room, was now lying in a ditch alongside Perryville Road in Rockford, Illinois.
Hopefully, this was a responsible resident who was taking their tree to be properly recycled and it just accidentally flew out of their pickup bed, because "on the side of an Illinois road" is definitely NOT the location for tree disposal.
Can I put my real Christmas tree in the trash for normal pickup?
As in past years, Rock River Disposal will pick up Christmas trees during scheduled trash pick-up days beginning January 9 through January 19. If your tree isn't bagged, it should be placed next to regular garbage and must not have any ornaments, lights, or other decorative material on them. Trees over 4 feet tall should be cut in half.
Residents may also dispose of any remaining yard waste if properly containerized.  It is requested that yard waste only be placed in two-ply biodegradable paper bags and not in garbage cans for this pick-up, as yard waste may freeze in cans preventing removal. -City of Rockford
Where can I recycle my real Christmas tree near Rockford?
According to the Keep Northern Illinois Beautiful website, tree recycling will run from January 1 to 15. Trees can be dropped off at the following locations in Rockford:
Alpine Park, 950 S. Alpine Road
Andrews Park, 800 N. Central Avenue
Gambino Park, 4421 Pepper Drive
Levings Lake, 1420 S. Pierpont Avenue
Sandy Hollow Golf Course, 2670 Sandy Hollow Road
In Loves Park:
Martin Park, 5600 Park Ridge Road
In Rockton:
Rockton Boat Ramp, 830 East Main Street
in Cherry Valley:
Baumann Park, S. Walnut Street (daylight hours only)
in Roscoe:
Valley View Farms, 6440 Belvidere Road
in Harlem Township (Machesney Park)
Schoonmaker Park, 10500 Ventura Blvd.
in Pecatonica
Pecatonica Wetlands Forest Preserve, 4550 N. Pecatonica Road
in Village of Davis:
Davis Village Hall, 104 E. McKimmy Street
Where can I recycle my real Christmas tree in and around Chicago?
The Chicago holiday tree recycling program runs from January 7 to 21, 2023 and all the details can be found by clicking HERE.
The
LOOK: Things from the year you were born that don't exist anymore
The iconic (and at times silly) toys, technologies, and electronics have been usurped since their grand entrance, either by advances in technology or breakthroughs in common sense.
See how many things on this list
trigger childhood memories—and which ones were here and gone so fast you missed them entirely.
See the Must-Drive Roads in Every State