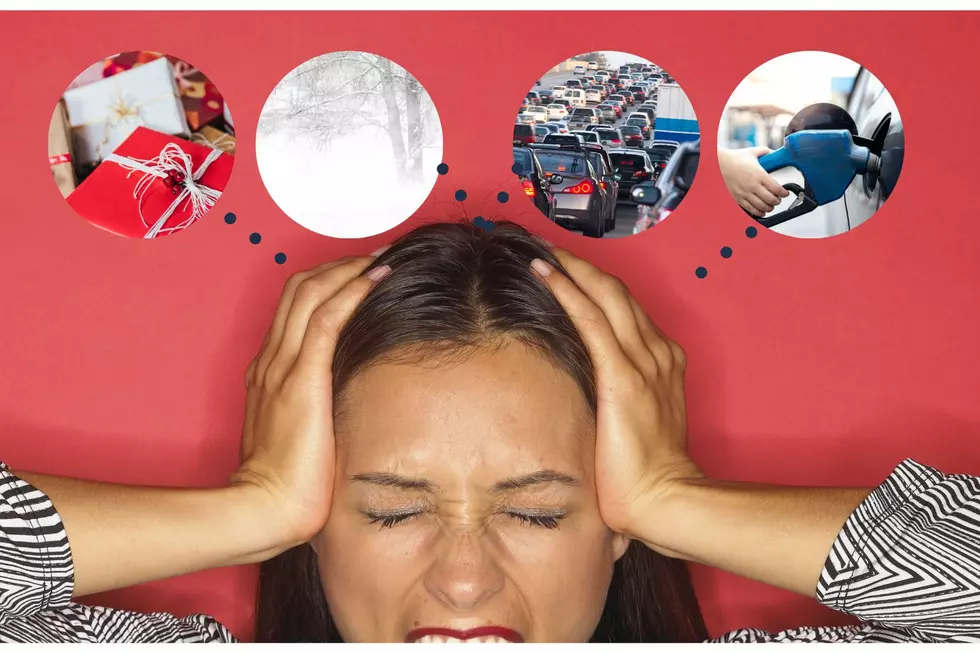 The 12 Pains of Christmas 2022 in Illinois
Canva
It's the most wonderful time of the year... or is it? If you live in Illinois, you may have a different opinion, especially this year with the whopper of a winter storm we're expecting over the next few days.
While every holiday season can be high-stress, Christmas of 2022 seems to be a tad worse in Illinois...or is it just me?
I have never in my life been so unprepared for Christmas as I am right now, and that makes me sad. Instead of blaming my own procrastination for my current situation, I am choosing to blame Illinois' own unique set of frustrations for my holiday pains this year.
2022's 12 Pains of Christmas in Illinois
1. The weather -  Let's be real, Illinois weather is unpredictable at the best of times, but the winter storm that is predicted to hit our area this week is ruining most families' Christmas plans, and that SUCKS.
2. Traffic -  Holiday traffic is always the worst. Frantic shoppers, out-of-town guests, and pot-hole-ridden roads are just a few of the things that make driving during the holiday season in Illinois a headache, but factor in blizzard-like weather conditions and now we've got a major migraine on our hands.
3. Endless holiday parties -  It's great to see friends and family, but trying to juggle multiple parties because Christmas Eve and Christmas Day fall on the weekend is enough to make anyone's head spin. And don't even get me started on the awkward small talk with Illinois relatives who are beyond frustrated with this state's taxes and other troubles.
4. Gas Prices - The price for gas in Illinois might be slightly more affordable for holiday travel right now, but we all know the prices are going to skyrocket again after the first of the year, and that has everyone's frustration on the rise.
5. Dealing with the Grinch -  Every holiday season you will encounter that one person who seems to hate everything about the holidays, but in Illinois in 2022, almost everyone is pissy. Avoid them if you can.
6. Finding a parking spot - It's a battle for survival out there. Circling the lot for 20 minutes, only to have someone else snatch the spot you were waiting for is the ultimate holiday frustration every single year, not just in 2022.
7. The pressure to find the perfect gift -  It's not easy trying to find something that your picky cousin or hard-to-please mother-in-law will actually like, and with major supply chain issues still at hand in most Illinois stores, the struggle is even more real.
8. Wrapping presents - It's a tedious task that takes forever, especially when you have a pile of gifts and Amazon deliveries that arrived late and are as tall as a Christmas tree.
9. The cost of making holiday treats - Grocery prices are high right now in Illinois, so fulfilling your holiday tradition of making Christmas cookies puts an even bigger hurt on your wallet.
10. The financial strain - The holidays can be expensive and Illinois taxes are high. This is one Christmas pain that will be felt well into 2023 when you receive the credit card bills each month.
11. The struggle to find a quality holiday movie on TV - This problem is not uniquely Illinois, but this year I have finally grown tired of following the same plot line with a slightly different twist unfolding in every new Hallmark Channel Christmas movie.
12. The disappointment of a white Christmas - While many past Christmases in Illinois have been warm, snowless, and disappointing, no one dreams of a Christmas blizzard, so this year's Christmas weather situation is an epic fail.
Despite all these pains, the holiday season in Illinois can still be filled with joy, laughter, and love. Keep that in mind over the next few days when the stress starts to near your breaking point. I know I certainly will be.
LOOK: Holiday gift crazes and fads of the past century
Stacker
compiled a list of toy crazes from the past 100 years.
LOOK: See what Christmas was like the year you were born