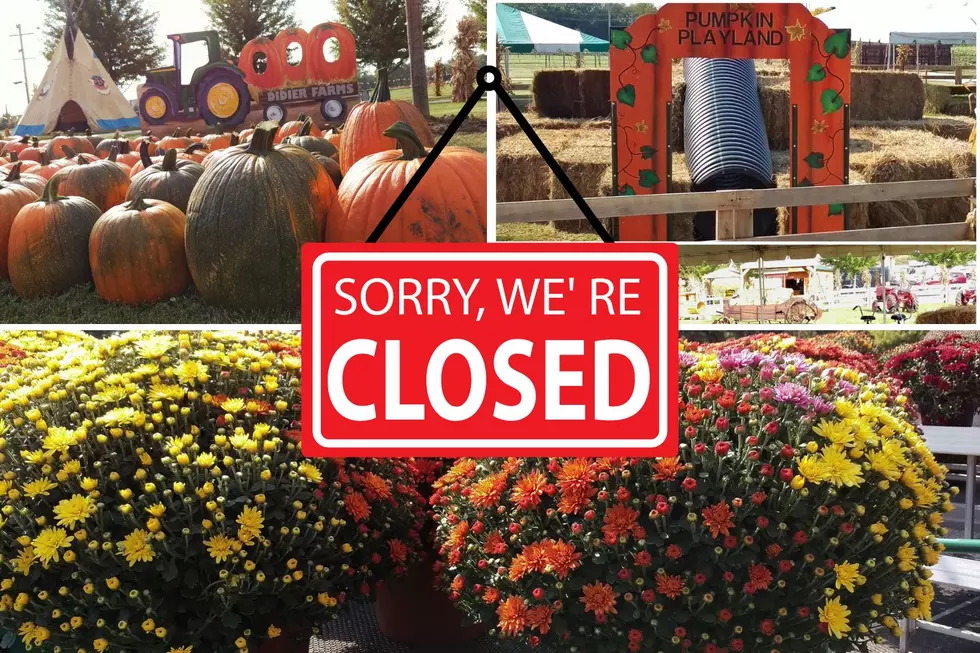 One of Illinois' Best Fall Attractions Just Closed…Forever
Didier Farms via Facebook, Canva
When you're on a hunt for the best fall attractions, farms, pumpkin patches, etc. Illinois has to offer, Didier Farms in Lincolnshire usually ranks near the top of the list.
The Didier family has been delighting visitors throughout many seasons with their fresh produce and flowers, and the Pumpkinfest they host every year during the Halloween season draws thousands of people from all over Illinois who can't get enough of the pumpkin fun and donuts.
If you've never visited Didier Farms before at Halloween, but have always wanted to, I have some real bummer news to share with you; their special brand of pumpkin fun has come to an end...forever.
After Didier Farms shared that shocking news on Facebook, many people chimed in with their favorite memories of Didier Farms. Now I'm even more bummed I never got the chance to take my kids there...
Oh wow! Little did I know that my visit this past Monday would be my last  My parents and I have been coming to your farm most of the 35 years we have lived in Highwood....

 

This is truly a sad day for the north shore community. Amazing plants, fruits, vegetables, those donuts, a staff that was incredible! I could go on and on! How blessed we were to share the fall tradition of Halloween festivities at Didier Farms!!

         You will be missed-

          A wonderful place that brought so many smiles!

          Congrats on everything you've provided to the community over the            years! Including providing first jobs to so many of us who grew up              in the area.

          Best of luck Didiers, a well deserved retirement! Please be happy,              not sad after reading all these wonderful tributes! It sounds like the            farm left many great memories for many families over the years.
While Didier Farms hasn't provided a reason for the permanent closure, they let concerned fans know that the land is NOT being sold, and that Christmas trees (from a different vendor) will still be available for purchase at their farmstand this holiday season...in case you want to go check it out.
5 Perfect for Fall Apple Orchards in Northern Illinois to Visit
Even the biggest spring and summer lovers have a deep appreciation for a trip to an apple orchard. We're lucky to have so many this close to us.
Galena, Illinois: One of America's Very Best Christmas Towns
Wouldn't you know it, the most magical time of year also happens to be when this old-fashioned town looks its best.