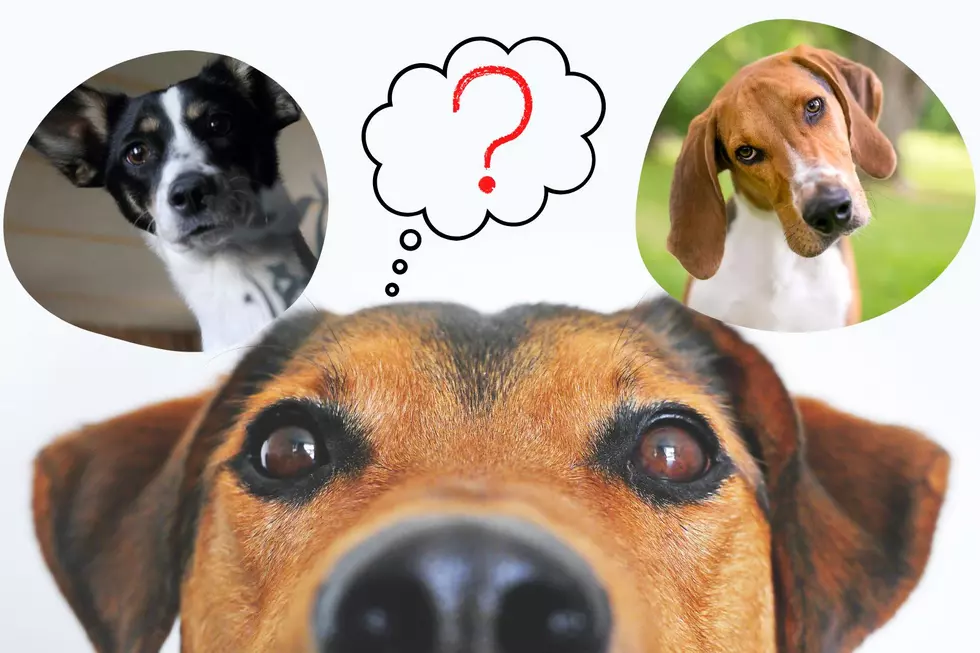 Top Dog Names in Every State and Illinois' is An Odd Surprise
Canva
Did you get a dog, or are you planning to get a dog, and can't think of a perfect name? Here's the list of the top trending names, plus Illinois' most popular pup name.
Picking Out a Name
You once heard a great dog name and told yourself that when you get a dog of your own, you would use that same name. You finally brought your new furry family member home and no matter how much you loved that name when you heard it before, you're now looking at your border collie and the name just doesn't fit.
That's the same issue brand-new parents have often, right after their baby is born. That name sounded perfect before the baby arrived and then once you're holding your precious child that name just doesn't seem to fit that cute face in front of you.
You might draw dog-naming inspiration from a favorite celebrity, one of my two Saint Bernards was named 'Pacino', after actor Al Pacino. My other Saint Bernard's name,  'Lambeau', was inspired by my favorite NFL team, the Green Bay Packers.
Like a tattoo, I think your dog's name should be something unique, something with a story behind it. That being said, these first couple lists I want to share with you are VERY overused dog names. Thanks to Rover.com, here are the names I think you should avoid naming your dog.
Most Common BOY Dog Names
Max
Charlie
Cooper
Milo
Buddy
Rocky
Bear
Teddy
Duke
Leo
You go to any park where you see people out with their dogs and shout one of those boy dog names above, or one of these girl dog names below, and several dogs will respond.
Most Common GIRL Dog Names
Luna
Bella
Daisy
Lucy
Lily
Zoe
Lola
Sadie
Bailey
Stella
Rover.com, besides sharing those lists above, including the Top Trending dog names, also found the top names in each state. In the state of Illinois, the top dog name isn't on any of the lists above. I've never met a dog with this name, but apparently, it won't be long before most of us do.
It never occurred to name my dog after a favorite drink.
Illinois' Top Dog Name is 'Matcha'
The top dog name in Illinois is Matcha. If you're not aware of what matcha is, Health.com explains:
Matcha is a type of powdered green tea that's rich in antioxidants. With traditional green tea, the leaves are steeped in hot water and then discarded. But with matcha, the dried leaves are actually ground into a powder, mixed into the drink, and consumed.
This very aromatic tea appears to have some impressive health benefits.
I like green tea but I've never had matcha. I have heard that it's an acquired taste (which means it tastes awful and they're only drinking it because of the health benefits).
24 Spoiled Rockford Dogs That Are Guaranteed to Make You Saw "AW!"
What the dog wants, the dog gets.
25 Pics of Illinois Dogs Destroying Our Things While We're Away
These dogs we choose to own, they're so dang cute, right?!
LOOK! 10 Illinois Dogs with No Shame in Their Selfie Game
We asked to see what your dog's profile photo would look if they were on a doggy dating app. We got a ton of cuteness and a few dogs who have zero shame.
More From WROK 1440 AM / 96.1 FM